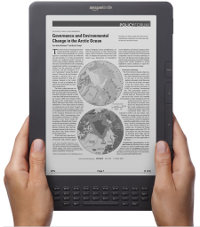 About a week ago I posted about how Amazon had cut the price of the Kindle DX from $379 to $299. As expected it was indeed a final sale to eliminate stock, because the Kindle DX is no longer available for purchase from Amazon; it's only being sold used through third party merchants.
Even more damning, there's no mention of the Kindle DX coming back in stock, and it has been removed from the Kindle family box and all the Kindle comparison tables at Amazon—certainly not the sign of a simple stock shortage.
Amazon's actions are clear. The Kindle DX is being discontinued. They haven't updated it in years, and stopped advertising it in press releases ages ago. And if they were going to introduce a new model this year they would have done so by now (the fact that the 8.9″ Kindle Fire HD doesn't start shipping until mid-November proves it).
Even though the Kindle DX was thin in the features department, and the keyboard was hard to use because the device was so top-heavy, it's sad to see it go, especially without a newer model replacing it.
One could hope that it will be resurrected in the future to include either a color E Ink screen or even a Paperwhite screen.
But that's unlikely with the heavy market shift toward tablets. Amazon now has the 8.9″ Kindle Fire HD to market for textbooks, magazines, and larger form content. Plus it offers a lot more features than something with an E Ink screen could, and for cheaper no less.
There just doesn't seem to be enough of a market for 9.7″ E Ink ebook readers anymore. The Kindle DX was one of the last options in the U.S. Pretty much anything else has to be imported. Oddly though, Amazon is still selling the international version of the older 2nd generation Kindle DX with severely dated software and hardware.