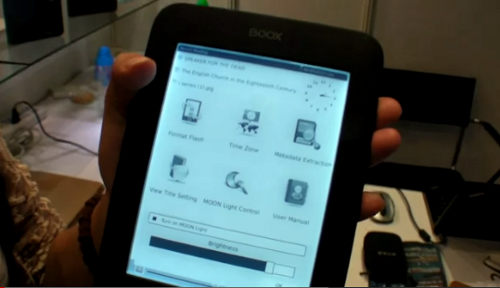 Last month I posted about a new ebook reader from Onyx called the i62HD Firefly. It is a 6-inch ebook reader with a 1024 x 758 HD E Ink screen and a built-in frontlight similar to the Kindle Paperwhite and Kobo Glo.
Onyx's ereaders go by different names in different parts of the world. Yesterday Charbax from ARMdevices.net posted a video showing the Onyx Boox i62HD Moon Light in action, which is the same device as the Firefly.
From the video the frontlighting looks like it's well done. There doesn't appear to be any dark blotches or uneven lighting, but it's hard to tell without seeing it in person.
One thing that is clear from the video is it has Onyx's advanced firmware that is loaded with features. The software looks pretty much the same as the Icarus Excel (Onyx M92) that I reviewed a couple months ago. That means it has plenty of zooming options, multiple reading programs, custom fonts, on-screen handwritten notes, text-to-speech, support for folder navigation, etc.
The only downside with Onyx's firmware that I encountered is that DRM'd ePubs have to use the Adobe Reader program and it doesn't offer very many features and you have to use the default font, margins, and line spacing because none of that is adjustable.
Regardless, the Onyx i62HD Moon Light, Aurora, or Firefly—whatever they want to call it—is one best-looking frontlight-equipped 6-inch ebook readers coming onto the market.
Alas, it doesn't appear as if it will be reaching North America anytime soon. Folks in Europe should be getting them in November. In the earlier post about the Firefly I said that I would be getting one in for review, but unfortunately that is not the case. They said they were sending one but then it never showed up. Typical.