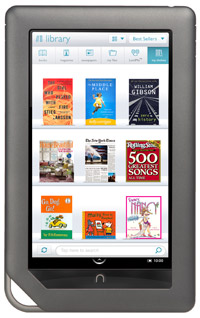 It looks like Barnes and Noble is clearing out their Nook Color inventory to make room for the upcoming Nook HD and Nook HD+ that are going to be released on November 1st.
Currently Barnes and Noble is selling the Nook Color for just $99 from their eBay store, and that includes free shipping. These are refurbished units that were previously selling for $129.
This is the lowest price I can ever remember seeing for the Nook Color. It originally sold for $249 back when it first came out.
Seeing as how it was released back in November of 2010, the Nook Color's hardware is fairly dated by this time, but it can still serve as a good LCD ereader and basic tablet. Plus there are a number of hacks and ROMs for it, including one for the latest version of Android 4.1.2 JellyBean.
For ereading the Nook Color is still a good option at $99, especially once modded, because then it can install any ereading app instead of being limited to just Barnes and Noble.
The biggest negative is the single core 800MHz processor, which is rather slow compared to what is being used on most budget tablets these days.
But it does have the upgraded 1024 x 600 screen that is big step up from many of the sub-$130 tablets with 800 x 600 resolution screens. And it has the microSD memory card slot for expansion.
B&N is also selling refurbished Nook Touches and Nook Tablets from their eBay store, but the prices are just okay right now. I bet they will be quite a bit lower next month, especially around Black Monday and Cyber Monday.