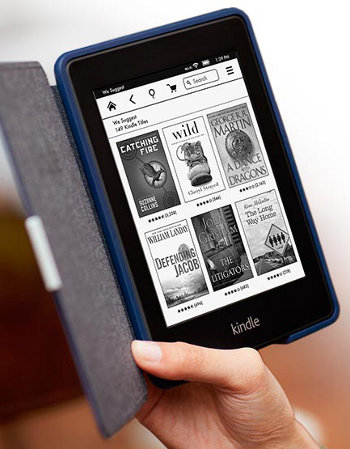 Amazon is now starting to roll out the first firmware update for the Kindle Paperwhite since its release about 1 month ago.
The update will be delivered automatically to all Kindle Paperwhites via Wi-Fi over the "coming weeks", or you can download it now from Amazon and install it manually.
The new software is version 5.3.0. The old software was 5.2.0. You can check by going to the settings menu from the homescreen and then hitting the menu button to access device info.
To install the update all you have to do is download the file to your computer and then transfer it as is to the Kindle Paperwhite via USB. Put it on the main Kindle drive and not in any of the folders. To apply the update hit the menu button from the homescreen, then settings, then menu again, and then Update Your Kindle.
I just installed the new software on my Kindle Paperwhite and I can see some improvements. Text appears a little bolder and more defined, and makes the high-res screen look even better.
One of the best things about the update is they made it so that you can turn off the recommended titles that appear on the first page of the homescreen. To do so, go to Settings > Device Options > Personalize your Kindle > then turn off Recommended Content.
Amazon also added support for Simplified Chinese and included some new features to improve manga support with a fit-to-screen setting and the option to set page refresh for manga and comics independently from the refresh setting for ebooks. They also made it so you can access settings directly from the menu when reading a book instead of having to go back to the homescreen.
Here's the link to the Kindle Paperwhite Software Update page for the entire list of changes and for the new software download.