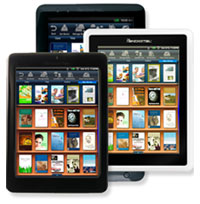 Oddly enough, one of the biggest players among the initial explosion of Android tablets was Pandigital with their various Pandigital Novel ereader/tablet hybrids.
They were never very good, and some of the models were downright terrible, but back then there weren't many options for a budget color ereader and tablet. The fact they were hackable aided their success greatly, and Pandigital also benefited by selling them from thousands of retail stores across the US, especially Kohl's stores where coupons could be used to shave large percentages off the already low price.
Then last year Pandigital followed up the Novel line with a new set of tablets with astronomical names: the Pandigital Planet, Nova, Star, and SuperNova. Once again they weren't very good, but they were cheap and availability was widespread. Last year they were an okay value for the price, but this year the software is so dated they aren't worth considering, and a lot more companies have caught up with the low price so that's no longer an advantage.
Pandigital has since released a couple of variations of the SuperNova, which ironically is their most expensive model, but for some reason they have neglected to release a new line of tablets in over 1 year.
Has Pandigital decided to give up the Android tablet market?
One would think with their initial success in the field they would have released a line of cheap Android 4.0 tablets this year like everyone else. I guess they are going back to focusing on digital photo frames instead. No big loss, really. Just an observation.