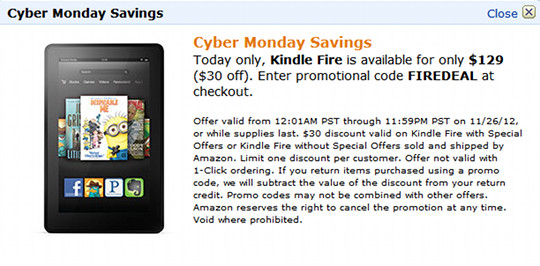 Today is Cyber Monday and there are some good deals to be had on tablets, ereaders, and ebooks, among other things of course. This year there doesn't seem to be any truly spectacular deals, but there are a couple of good choices. I decided not to include a lot of the cheap junky tablets on this list because it's generally a good idea to spend a little more to get something good than some no-name Chinese knock-off that only gets 3 hours of battery life.
Amazon Kindle
Amazon is offering the Kindle Fire for $129 today only for Cyber Monday. It normally sells for $159. You have to enter FIREDEAL at checkout to get the lower price. This is the updated version of last year's Kindle Fire, not the new HD models. The main difference with this Kindle Fire is it lacks the HD screen and HDMI port.
Amazon is also discounting a bunch of ebooks by 80% for Cyber Monday on the Kindle Daily Deals page. Amazon points out you can by the ebooks for yourself or give them as gifts and deliver them via email. And don't forget to checkout Amazon's main Cyber Monday deals page for additional deals. They have a list of tablets but nothing is particularly striking, except the Samsung Galaxy 7″ for $179, but it's currently out of stock.
Last but not least, there's a voucher for 30% off qualifying Kindle Accessories via Amazon's local deals. It can be used for up to $30 off Kindle accessories for items sold by Amazon.
Kindle Daily Deal: Cyber Monday
Amazon's Cyber Monday Deals Week
Nook
There's a really good deal for an 8GB Nook Tablet via eBay. It's only $79. At that price I assumed it was the Nook Color when I first saw it, but no it's the tablet. That's a very good deal when couple with a custom ROM. And it turns out there's an even better deal for a 16GB Nook Tablet at 1 SaleaDay. There's also a couple of good deals on refurbished Nook Touches.
Also, Barnes and Noble is giving away a $20 B&N gift card with the purchase of any Nook from their website when using a MasterCard during Cyber Monday.
Nook Tablet 8GB (refurb) for $79
Nook Tablet 16GB (refurb) for $99
Nook Simple Touch (refurb) for $56
GlowLight Nook Touch (refurb) for $99
Kobo
The Kobo Mini has been on sale for just $49 during this shopping weekend at Best Buy and some independent booksellers.
Kobo is also offering a bunch of sales on ebooks for Cyber Monday from the Kobo website.
Codes:

80Cyber (80% off) these ebooks
50Cyber (50% off) these ebooks
30Cyber (30% off) these ebooks
More Cyber Monday Sales
$229 Google Nexus 7 32GB at eBay.
$199 Samsung Galaxy 2 7-inch at Office Depot.
$179 Samsung Galaxy 2 7-inch (refurb) at TigerDirect.
$474 iPad 4 16GB Wi-Fi at eBay.
$349 Asus Transformer TF300 at Newegg.
80% off select ebooks at Google Play.
50% off ebooks and videos at O'Reilly.
Cyber Monday Deals by Stores