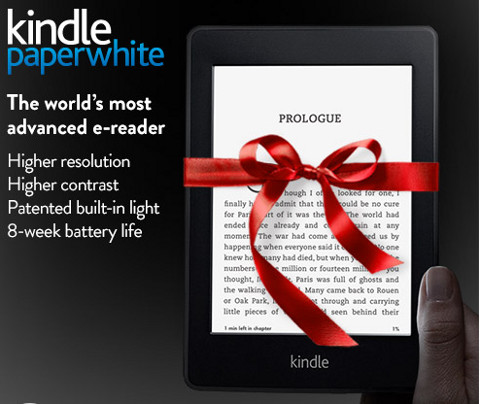 For several weeks now, all versions of the Kindle Paperwhite—the 3G model, Wi-Fi model, and Special Offers models—have been showing an expected ship date of December 21st over on Amazon.com.
I keep expecting the date to change, for them to be sold out for Christmas, but it hasn't happened yet, and I wouldn't be surprised if it never happens because something is fishy about the whole situation.
I think there's more to it than a simple supply issue, if that's even an issue at all.
The reason I question that is I recently took a notion to check local supply of Kindle Paperwhites and much to my surprise they are readily available right now in multiple retail stores with no delay whatsoever. There are several Staples and Best Buy stores in my area that have several Kindle Paperwhites in stock and for sale.
That's a little odd seeing as how they've been supposedly backordered for several weeks on Amazon.com.
Then there's the issue of the date. Of all the dates Amazon could have picked off the calendar, they just had to pick one that makes it seem like it is so incredibly popular that they might run out before Christmas, making customers think they have to buy one now before they sell out.
That seems like a shady marketing tactic if you ask me.
It might all be legit or just some strange coincidence, but something seems a little off about the whole equation. Generally when Amazon has supply issues with Kindles, the shipping dates fluctuate with demand. But not with the Kindle Paperwhite. It continues to remain at December 21st, even after Amazon says they sold more than twice as many Kindles this year over Black Friday and Cyber Monday than last year, and the fact the Kindle Paperwhite is the #3 bestseller on Amazon. Something doesn't add up.