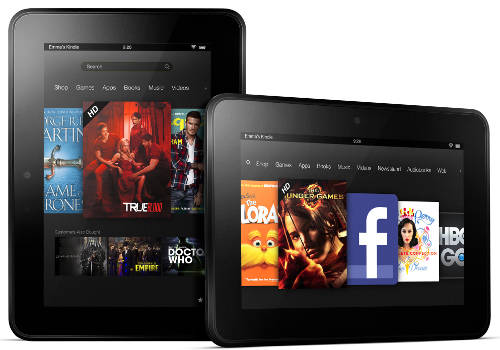 The Kindle Fire HD got some new features via a firmware update yesterday.
The new firmware is labeled version 7.2.2, and it's for the 7″ Kindle Fire HD. The 8.9″ model has different firmware, and there isn't any mention of the new features on its software update page yet—it will probably be updated soon.
Here are the three new features added with the update:
Camera app. You can now use the front-facing web camera to take pictures of yourself with an included camera app in the Photos library.

Swype. Swype is a keyboard feature that provides a fast way to enter text. It lets you create a word by drawing through letters. Swype also provides additional keyboard functions like copy and paste and the ability to change the keyboard language.

Kindle FreeTime Unlimited. Kindle FreeTime Unlimited is a subscription service you can choose to sign up for within Kindle FreeTime. Parents can subscribe children's profiles to a wide variety of videos, apps, and games appropriate for ages 3-8. For more information, see www.amazon.com/freetimeunlimited.
Like usual, the update will download and install automatically to your Kindle Fire HD if it is connected to the internet. You can initiate the update by swiping down from the top of the Kindle's screen to open the notifications bar and then tap "Sync".
Another option is to download the update to your computer and transfer it to the Kindle via USB. Hit the 7″ Kindle Fire HD Software Update page for the directions and download link.