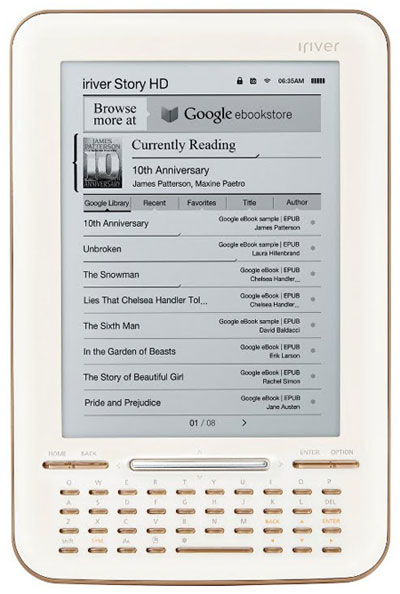 A 'retro-review' written by Andrew.
When iriver (a South Korean company that made its mark developing MP3 players) decided to get into the eReader business a few years back, many early reviewers weren't too sure how things would turn out. Their first model, the iriver Story, was ostensibly marketed as a combination eReader/MP3 player, but, in reality, it was just a run-of-the-mill E Ink device with audio capabilities, and it looked a whole lot like the Kindle 2. While IREX and Sony were on the verge of launching the first ever touchscreen eReaders, iriver's design team chose to emulate the Kindle 2's physical QWERTY keyboard, along with its last-generation stylistic look and feel. This decision was almost universally panned in the reviews that I read at the time.
The following year, iriver announced the iriver Story HD, which appeared to be a nod to Amazon's next-generation Kindle at the time, then referred to as the Kindle 3, now known as the Kindle Keyboard. Despite their copycat approach to eReader design, iriver managed to do something with the Story HD that took Amazon and other competitors a further two years to accomplish: iriver was the first company to release an eReader with a high-definition E Ink display.
To give you a little background on this: last September, both Amazon and Kobo announced that their new front-lit eReaders would feature HD, 1024 x 768 E Ink displays. This improved resolution would greatly enhance the appearance of text, and it would also be able to support more stylistic serif fonts. The Kindle Paperwhite's Amazon product listing boasts that the device has "62% more pixels for unsurpassed resolution." The Kobo Glo's firmware now offers a multitude of advanced settings which enable the user to fine-tune font weight and appearance. Without a doubt, they are the best displays I have seen.
Prior to the release of these new devices, eReaders across every major brand used a lower-defintion display that could render text well enough but lacked the sharpness and clarity that some, including myself, desired. Three Kindle generations had come and gone, all shipped with the same 800 x 600 E Ink display that was first introduced way back on the Kindle 2. In fact, from February 10, 2009, until September 6, 2012, Kindle users were presented with the same three year old E Ink technology on every 'new' version of the device, with only marginal upgrades to font rendering and no improvement to the resolution. In the tech world, three years is a pretty long time.
Both Amazon and Kobo heralded the inclusion of HD E Ink screens in their latest eReaders as if some major advance in E Ink technology had just taken place. And you might have assumed that this was the case if you had never heard of the iriver Story HD, which was distributed in the United States by Target starting on July 17, 2011. Nathan posted a video and written review of this device shortly after it hit the shelves.
The Story HD got a lot of attention around its debut as it was the first eReader to tie-in to the Google eBooks store (this was prior to the inception of Google Play), and the first to feature a 1024 x 768 HD E Ink display. These were two impressive attributes, but, unfortunately, the Story HD's limited firmware and the prevailing market focus on newer touchscreen eReaders stifled the Story HD's impact. The first really good Sony touchscreen eReader appeared in August, 2010, and the Nook Simple Touch came out in June of 2011, to widespread acclaim. Suddenly, keyboard eReaders were viewed as passé.
iriver's inexperience with eReader software didn't help things much either. Even today, with its latest firmware version installed, the Story HD has only one font option, no line spacing or margin options, no ability to highlight or annotate, and the e-dictionary actually requires that you manually type the word that you want to look up into a search box; there is no cursor to highlight words and automatically activate the dictionary like on the Kindle Keyboard.
Sure, smaller text was much easier to read on the story HD, and images looked great, but with such limited capabilities, the Story HD was written off by most reviewers. Everyone was waiting for a firmware update that would add much-needed features, but it never appeared. There are also a couple of bugs with the software that were never worked out, like if the length of an ebook's file name is too long, the device will brick. Crashes and freezes were a regular occurrence, and the return rates at Target had to be through the roof. From firmware version 1.0 to 1.33 just released a couple of weeks ago, this problem has still not been fixed. A longtime Story HD user at Mobileread recommended that I never store ebooks on the internal memory of my device. I load everything from an SD card (one spec they got right) so I can just remove it to recover if something bad happens. At least they are still pushing out firmware updates, right?
The Story HD's original $139.99 price tag put it into competition with the larger brands, but consumers expected better features than what iriver was offering by that time. An eReader is much more than its display or content provider. Incidentally, the iriver Story HD was never really seen as 'Google's eReader' in the way that, I'm sure, iriver's management wanted it to be. This had to be disappointing for them. The device sold poorly in the US, despite iriver's efforts to renew interest. Then the price wars between Barnes & Noble and Amazon began.
By the first months of 2012, Target reduced the Story HD's price down from $99.99 to $49.99 and announced that they would no longer be carrying it online or in-stores. No other major US chain has offered to pick up distribution. It was pronounced 'dead.'
The iriver Story HD could (or should) have been a trendsetter with its high-definition E Ink display, but iriver's larger competitors basically ignored their progress. Amazon's first touchscreen eReader, the Kindle Touch, came out in September 2011, but it still employed the old 800 x 600 E Ink Pearl display, as if nothing new had happened. Sony's PRS-T1 display remained unchanged, and the Nook Simple Touch with Glowlight, announced in April 2012, also offered more of the same when it came to screen resolution.
The 1024 x 768 E Ink display would have to wait another year and a half before it caught on. Essentially, iriver failed to challenge the industry to move forward, with some even contending that an HD screen on eReaders was unnecessary. I got into a spirited debate with a Mobileread member who balked at my complaints about the lack of HD E Ink displays. To paraphrase, he claimed that E Ink screens were perfectly fine they way they were, and that any improvements were not really "needed." I responded by pointing out that if eReaders really wanted to compete for consumer attention with the newer tablets that were coming out (and eating up their market share), they had to improve along with them. If the iPad had a 'retina display,' eReaders would have to make a move in that direction as well. For new gadget consumers, there are many reasons to buy a multi-purpose tablet over a dedicated eReader, but all an eReader has is its display and its features for reading ebooks. The new iPad was given an impressively high-resolution screen, and Android tablets were beginning to look sharp as well (summer of 2012).
eReader sales were slipping. People who would be more likely to choose an eReader over a tablet were being led astray by the promise of 'retina display' clarity. If all an eReader has is its display, then it better have the absolute best display possible in order to compete with this new HD trend. E Ink had the technology, but it just wasn't being used. If no one wants to buy a 7-inch tablet with last year's displays, why would anyone want an eReader with 2009's? Would they immediately come to the conclusion that a better E Ink display wasn't 'needed?'
When companies announced their new line of eReaders and tablets this past fall, HD emerged as the main trend. We now have the Kindle Fire HD, the Nook HD; the Kobo Arc has a 1280 x 800 high-resolution display; the Google Nexus 10 has an iPad-besting retina display. B&N didn't release a new eReader, but both Kobo and Amazon have struck ahead with the 1024 x 768 E Ink display, the same resolution as seen on the iriver story HD almost two years prior. The need for tablet makers to focus their branding on HD was obvious, but the future of E Ink was in doubt. Not any more. You could argue that the average consumer isn't paying attention to any of this, but I disagree, and I believe that the latest emphasis on HD displays proves it.
Could anyone honestly say they would want to go back to the 800 x 600 screen resolution on their Kindle or Kobo? I also can't imagine how an iPad 3 user would ever want to downgrade to the iPad Mini.
The Paperwhite and the Glo aren't perfect, but they get few complaints about how they display text. I also don't hear anyone bemoan the higher-resolution displays. Yes, there is room for improvement—I would eventually like to see 'retina' quality text on a perfectly white background—but this new generation of E Ink eReaders has finally taken a step forward, in the right direction.
The iriver Story HD may have been the first of the HD-promoted eReaders, but I'm not sure it had any real effect on where we are today. The good people at iriver did create a nice basic eReader. I recently found a new Story HD on eBay and I've been using it for the past few weeks. I love the little clicking sound that the keys make when I turn the page (I'm sure this annoys most people), and it is nice to have physical page-turn buttons again. Text does look very sharp, but with its limited firmware options, I would consider it as more of an E Ink document viewer.
I have always liked eReaders from the 2009-2011 period. It was a time when developers weren't restrained by the strict confines of the price war between Amazon, Kobo, and B&N. I can only hope that smaller companies like iriver will continue to create alternative device options for consumers, and that dedicated eReaders will continue to improve. Four years ago, pundits were predicting the death of the physical book. Today, they are predicting the demise of the eReader that was supposed to have replaced it. Companies should take iriver's lead and make the changes 'needed' to keep eReaders at the forefront of digital reading technology.