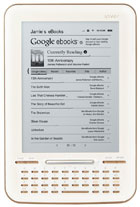 The iriver Story HD ebook reader is on sale at Target for $99 until October 15th. It is normally priced at $139.
Even at that price I'm not sure I'd recommend it unless you just want a really basic ereader. The Kindle with Special Offers at $114 is a better value because the Kindle comes with a lot more features.
The Story HD had a lot of potential, but that's been squandered up to this point. The main problem is that it has the feature-set of an ebook reader from 2 years ago. The high definition screen is its best feature, but the difference isn't great enough to make up for the device's shortcomings.
Here's the full iriver Story HD review for more details.
I had hoped that iriver would update the Story HD's firmware to add new features, but that has been slow going. They just released a firmware update for the Story HD today, version 1.21, but I'm not finding many new additions and there's no changelog to be found.
The good news is that they added the ability to run searches within ebooks. The only other changes I noticed is there's an option to turn on and off EPUB links in the settings menu (no idea what that does since hyperlinks don't work anyway) and the text sizes are slightly different now. Here's hoping that iriver keeps the improvements coming.