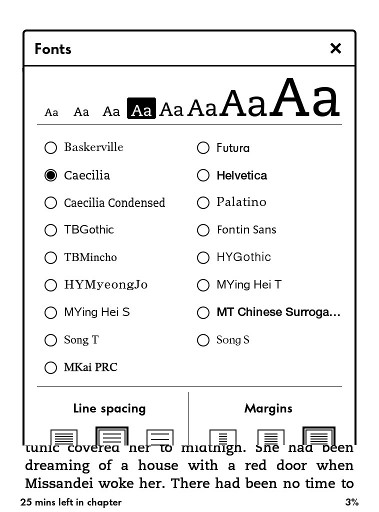 So I was doing some reading on my Kindle Paperwhite last night and started to wonder if there was an easy way to add additional font choices to the list without jailbreaking and hacking.
As it turns out, there is an easy way to add custom fonts to the Kindle Paperwhite. Basically all you need to do is add a folder with some new fonts to the Paperwhite along with an empty file. Restart, and that's it.
With earlier Kindles (except the Kindle Touch) all one had to do to add custom fonts was to load in some fonts in a font folder and then use the Kindle Collections plugin and Calibre.
You can also use Calibre to embed fonts with the Kindle Paperwhite by converting the ebook to KF8 format. But this other method for the Paperwhite is even easier because you don't need to use any additional programs at all.
I found this trick over at Mobileread hidden in the Kindle Touch font hack thread. This does not require any hacking, though, nor a jailbroken Kindle. Your Kindle Paperwhite just needs to be running 5.3.0 or newer firmware (mine is running 5.3.1).
Update: Unfortunately this trick does not work on the 2nd gen Kindle Paperwhite released in 2013. It only works for the original Paperwhite.
How to Add Fonts to Kindle Paperwhite
1. Plug your Kindle Paperwhite into your computer with the USB cable.
2. Copy an empty unspecified file type with this title onto the Kindle's drive, the root directory (top level): USE_ALT_FONTS
3. Place a new folder on the Paperwhite's root folder called "fonts".
4. Place whatever OTF or TTF fonts you want in the fonts folder. They need to be named in a specific way for the variations of the fonts to work properly for bold, italic, etc. Like this:
Fontname-Regular.ttf
Fontname-Italic.ttf
Fontname-Bold.ttf
Fontname-BoldItalic.ttf
5. Once the fonts are added, unplug your Kindle from the computer and then got to Settings > Menu > Restart. Enjoy!
Now when you tap the "Aa" button when reading there's a whole bunch of new font choices. The weird thing is I only added Fontin Sans to mine and all those others appeared on the list automatically (shown in the picture above). Also, the first time after restarting all the book covers disappeared from my Paperwhite's homescreen for some reason. I restarted again and now everything is working fine.