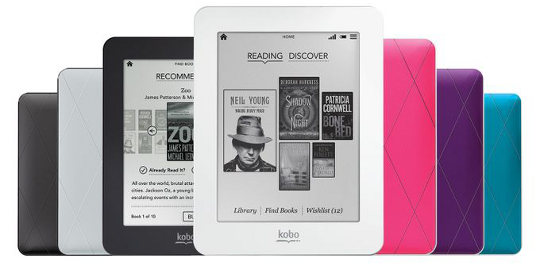 As we enter the final week of January, there are some decent deals to be had on ebook readers and tablets. There are also plenty of sales on ebooks to keep your ereader or tablet fed during these cold winter days.
If you happen to come across any other deals feel free to mention them in the comments section at the bottom of the page.
eBook Sales
Post-Holiday Genre Potpourri Event – This offer includes 16 ebooks for 99 cents each at Amazon. Choose from Literary Fiction, Fantasy, Women's Fiction, Romance and Young Adult.
100 Kindle books for $3.99 or less
50% off Linux eBooks at O'Reilly – Use discount code WKLNUX – Deal expires 1/31/13.
Kobo eBooks Discount Codes: VoucherCodes40 (40% off) 56b6c435 (35% off) 56b6c230 (35% off) – more codes.
eBook Readers
The Kobo Mini is on sale for $59 in the US and Canada until Valentine's Day from retailers like Best Buy and Indigo-Chapters. It also comes with a free snapback cover. The Kobo Mini normally sells for $79. You can check my Kobo Mini review for more information about the device.
Frys.com has refurbished GlowLight Nook Touches for $79. It doesn't have the best frontlight but the hackable Android operating system has its perks.
7" Tablets
$179 Samsung Galaxy Tab 2 at Micro Center.
$171 Blackberry Playbook 32GB at Amazon.
$159 Samsung Galaxy Tab 2 (refurbished) at Walmart.
$149 Lenovo IdeaTab A2107 with Android 4.0 at Frys.com.
$99 Lenovo IdeaPad A1 with Android 2.3 at Newegg.
$97 Coby Kyros MID7048 with Android 4.0 4 at Amazon.
10" Tablets
$469 Apple iPad 4 16GB Wi-Fi at eBay.com.
$399 Asus Transformer TF300 with free key board dock (normally $150) at Newegg.
$248 Idolian Studio 10 with Android 4.1 at Buy.com.