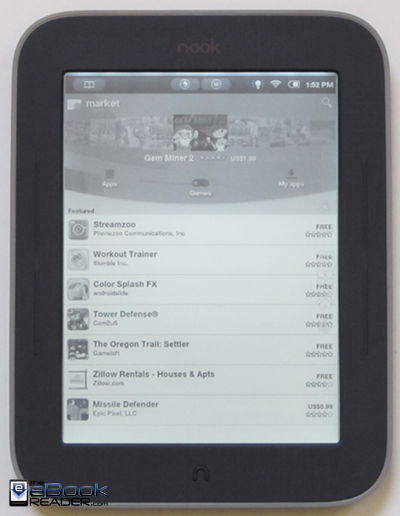 Welcome to another edition of the Nook Glow hacking guide, where you can take a stock Nook Touch with GlowLight and easily turn it into a functioning E Ink tablet, complete with access to Google's appstore for apps. Plus the Nook's regular B&N features continue to work just the same, even the GlowLight.
Earlier in the month I posted about rooting the Nook Glow with TinyNoot, a basic rooting package that doesn't include Google apps. This time around we've got a Google-equipped GlowNooter rooting package thanks to the development community at XDA, and especially Gabrial Destruir for putting GlowNooter together.
If you are curious what exactly a rooted Nook Glow looks like and what the benefits are, check out this earlier post for a video walkthrough and review of a rooted Nook Touch with GlowLight.
GlowNooter is a lot like TouchNooter for the original Nook Touch. The main difference is the way to install it. This time around we need to use clockworkmod recovery to install the GlowNooter package instead of writing the image to a memory card like with TouchNooter.
Installing GlowNooter is really easy. Here is the original post and directions over at XDA. Below are my version of the install directions along with a video tutorial and some getting started tips.
Disclaimer: Follow these directions for rooting the Nook Glow at your own risk. If your Nook Glow breaks it is all on you, but breaking it is pretty much impossible if you make a backup first. If you already rooted with TinyNoot, you should restore back to stock before rooting with GlowNooter.
Rooting the Nook Glow with GlowNooter
Step #1: Create a Backup of Your Nook Glow
First things first, you should create a backup of your Nook Glow before you begin. That way you can revert back to its exact current state if something goes wrong or if you want to un-root in the future.
Nook Touch Backup and Restore Guide »
Step #2: Create a Clockwork Mod MicroSD Card
1. Download a clockworkmod recovery file from over at XDA to your computer and then extract it. Inside you'll find an image file. I'm using a 2GB card so I used 2gb_clockwork-rc2.img.
2. Plug a microSD card into your computer. If your computer doesn't have a card reader built-in you will need an sd card reader (don't use your Nook!).
3. Write the clockworkmod image to a memory card. Use dd with Linux. For Windows, open WinImage as administrator and Select Disk > Restore Virtual Hard Disk image on physical drive. Select the microSD card from the list and hit OK. Now locate and select the clockwork-rc2.img file to open (make sure to select "All files" from the drop-down list to get img files to show up). After hitting Yes, WinImage will write CWM to the microSD card.
4. Once that's finished, download the GlowNooter file and market fix and then place them on the root of the clockworkmod microSD card you just created; don't extract the zip files, just drag them onto the memory card as is.
glownooter-1-12-25.zip (for 1.2.x firmware)
glownooter-1-5-26.zip (use this one for older 1.1.x firmware)
Step #3: How to Use Clockworkmod to Install GlowNooter
1. Power off your Nook Glow completely. Insert the clockworkmod memory card and power your Nook on. A clockworkmod logo will appear and then a menu. Here's how the buttons work:
Left Page Buttons: BACK
Top Right Page Button: UP
Bottom Right Page Button: DOWN
"n" button: SELECT
Power Button: TOGGLE DISPLAY
2. Use the bottom right page button to move the cursor to "install zip from sdcard" and then press the "n" button to select.
3. Now select "choose zip from sdcard" and install the glownooter-1-5-26.zip file first to root. Scroll down to Yes to confirm.
4. Once install is complete, pop out the memory card, then back out to the main menu. Now select to "reboot system now". Your rooted Nook will boot; the first time will take longer than usual.
5. When greeted with an Android screen, tap the Android icon and then select to Skip sign in and continue on. Select to go to the ADW launcher when given the option.
6. From the Android homescreen, open the app drawer by pressing the center icon on the lower menu bar and then scroll right and launch the YouTube app. Hit menu, then "My Channel" to sign in with your Google account. Accept the permissions and then exit the YouTube app.
7. Launch the Gmail app. Hit menu and then Refresh to sync. Nothing seems to happen here, but that's okay.
8. Power off your Nook Glow and proceed to the next step to fix the issues with the Android Market.
Step #4: Android Market Fix
1. Insert the clockworkmod microSD card back into your powered off Nook Glow.
2. Power on the Nook and do exactly as you did before with #2 and #3 above for step #3, but this time choose to install the beta5-1XWUMFTouch-PART-2-END.zip file instead.
3. Once install is complete, remove the clockworkmod memory card and back out to the main menu to select "reboot system now". You can now format the memory card back to normal because you won't need it anymore.
4. Once your Nook boots up, launch the Android Market app, sign in with your Google account, and then your rooted Nook Glow should be good to go.
Step #5: Getting Started Tips
You'll notice the Android Market search feature doesn't work and neither does the included Opera Mini web browser. Here's how to fix that:
1. Install Opera Mobile. Launch the Android Market, select Apps, then Communication, then Top Free. Use the Nook's page buttons to scroll down. Select Opera Mobile and then choose to install it.
2. Install SearchMarket App. Launch the Opera Mobile browser and type "searchmarket app" into the Google search bar. The top listing will direct to AppBrain. Just tap the big install button and it will direct to the Android Market to install it.
3. Open the NookColor Tools app, uncheck and then re-check allow non-Market apps to install apps from outside the Google appstore.
4. Check out the video below for a visual walkthrough of this rooting guide and for some additional getting started tips…
Video Guide: Rooting a Nook Glow with GlowNooter