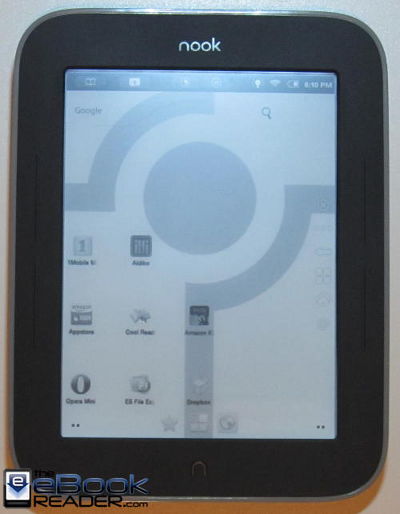 The Nook Touch with GlowLight has been out for a little over two weeks now. The first week a few developers that knew what they were doing were able to root their Nook Glow with a manual rooting method, but that is a little advanced for most people, including myself (Windows doesn't make it easy).
Luckily there's now a super-easy method for rooting the Nook Glow thanks to a package called TinyNoot that was put together by Roustabout over at XDA from tools the community has developed in the past year since the Nook Touch was released, including CWM, MinimalTouch, and Touchnooter.
The package doesn't include Google apps (here's an install guide for GlowNooter, which does have Google apps), but TinyNoot does root the Nook Glow and installs some important apps needed for a rooted Nook Touch, and comes with the Amazon appstore for easy access to apps. Check out this review of the rooted Nook Glow for a video showing it in action.
After getting things setup with Amazon, I downloaded the Opera Mini web browser and was able to download some additional apps not available from Amazon through alternate appstores.
All in all, TinyNoot does pretty much everything a regular rooted Nook Touch can do minus the Google apps. Plus the GlowLight works!
I was eagerly waiting for something like TinyNoot to come along for the Nook Glow and it is surprisingly easy to use. Here's my version of the install instructions; the original thread can be found at XDA.
If you want to have access to Google's appstore, use this alternate rooting guide for GlowNooter instead.
How to Root Nook Glow with TinyNoot
Step #1: Create a Backup
It is strongly advised that you create a backup of your Nook Glow before rooting it or modding it in any way. A backup essentially creates a snapshot of your Nook in its exact current state so you can revert back to it if something goes wrong after rooting or if you want to un-root.
Nook Touch Backup and Restore Guide »
Step #2: Create CWM MicroSD Card
1. Download a clockwork-rc2.zip file from over at XDA to your computer and then extract it. Inside you'll find an image file. I'm using a 2GB card so I used 2gb_clockwork-rc2.img.
2. Plug a blank microSD card into your computer. If your computer doesn't have a card reader built-in you will need an sd card reader (don't use your Nook!).
3. For Windows, open WinImage as administrator and Select Disk > Restore Virtual Hard Disk image on physical drive. Select the microSD card from the list and hit OK. Now locate and select the clockwork-rc2.img file to open (make sure to select "All files" from the drop-down list to get img files to show up). After hitting Yes, WinImage will write CWM to the microSD card.
4. Once that's finished, download these two TinyNoot files and then place them on the CWM microSD card you just created; don't extract the TinyNoot zip files.
TinyNoot Part 1
TinyNoot Part 2
Step #3: Using CWM to Install TinyNoot
1. Power off your Nook Glow completely. Insert the CWM card, and then power your Nook on. A clockworkmod logo will appear and then a menu. Here's how the buttons work:
Left Page Buttons: BACK
Top Right Page Button: UP
Bottom Right Page Button: DOWN
"n" button: SELECT
Power Button: TOGGLE DISPLAY
2. Use the bottom right page button to move the cursor to "install zip from sdcard" and then press the "n" button to select.
3. Now select "choose zip from sdcard" and install the tinynoot-1-of-2-.zip file first to root. Scroll down to Yes to confirm.
4. Once that's done "choose zip from sdcard" again and then install the second tinynoot package, 2 of 2.
5. After both TinyNoot packages are installed, use a left button to back out to the main CWM menu and then remove the microSD card and select to "reboot system now".
Tip: Once your Nook Glow loads the first time after rooting, make sure to check the small box when asked to "complete action using" and then select ADW launcher. That way you can get to the Android homescreen by default and use the "n" button to bring up the menu to go to the regular Nook's homescreen.
Tip #2: Before you can install any apps, you need to open the Nook Color Tools app and then uncheck and recheck the "Allow non-Market apps" box.
Here's a video tutorial for those of you unfamiliar with how CWM works, along with a couple of getting started tips. I'll post an in-depth video review showing the rooted Nook Glow in action in a day or two. Update: here's the link to the rooted Nook Glow review, plus tips and tricks post. It includes a 10 minute video showing the rooted Nook Glow in action.
Video Tutorial: Using CWM to Install TinyNoot