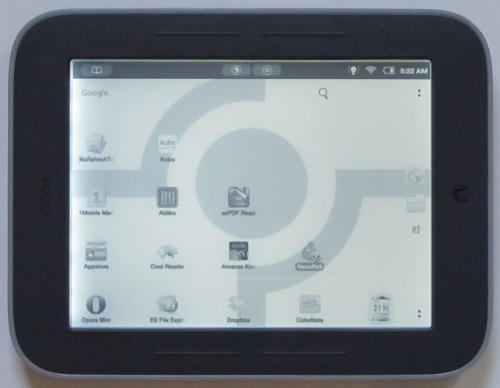 This review includes a video review of a rooted Nook Glow showing what operations can be performed and some different Android apps that can be installed, including Kindle, Kobo, Aldiko, Cool Reader, ezPDF, and others.
This review also includes some tips and tricks for getting started with a rooted Nook Glow, along with links to popular apps to install.
First off, here's the earlier post for directions on how to root the Nook Glow using TinyNoot. It is surprisingly simple. Plus there's a newer rooting method called GlowNooter that includes Google apps.
For those new to all this, rooting is essentially the process of gaining access to files normally hidden to the user. The Nook runs Android, which is open source software, so once you gain access to those files you can make changes to the operating system with commonly available tools that Android developers have created and made available to the masses, wrapped up all nice and neat in easy-to-use automated packages.
Once rooted, the Nook Glow still operates exactly the same as always, all the B&N features are still there and work just the same. But now you have the option to install Android apps, including a number of ereading apps, news apps, web browsers, note apps, and other utilities.
Because the Nook Glow is an E Ink device, it is fairly limited in what type of apps can be installed and used properly. Even still, you'd be surprised by the number of apps that do work. However, I've noticed the newer versions of some apps won't run but an older version will, such as Kindle and Aldiko. I added some links for them in the tips and tricks section below.
Rooted Nook Glow Tips and Tricks
Before you can install apps, make sure to open Nook Color tools and uncheck and recheck "allow non-market apps".
The TinyNoot rooting package doesn't come with Google apps so you need to get apps from Amazon and alternate appstores.
The Nook's web browser isn't very good. You can install a better web browser such as the Opera browser from Amazon and pretty much any other appstore.
A quick way to uninstall apps it to press and hold the app icon and drag it to the trash icon at the top of the homescreen, hold it there for a couple of seconds and it will prompt to uninstall.
Button Savior – Button Savior comes pre-installed with the rooting package. It is a small icon on the center right edge of the screen that brings up on-screen buttons for navigation. You can open the Button Savior app from the app drawer to customize the appearance and position of the buttons.
Recent Apps List – Hold down the home icon on Button Savior for two seconds to bring up the recent apps list.
Kindle App – The newer versions of the Kindle app won't install on the Nook but an older version at Android Freeware works fine. Scroll down and download the Kindle app version 3.1.0.30.
Aldiko App – The newest version of the Aldiko app from Amazon worked fine at first, but then after a while it wouldn't open anymore. I downgraded to 2.0 and it seems to be working fine.
No Refresh App – This is a useful app that makes scrolling much smoother.
Battery Widget – The battery widget is cool because you can add it to your homescreen to get an exact percentage of battery life without having to go into the setting menu.
Minimalistic Black Theme for ADW – This makes the app icons more legible on the homescreen and in the app drawer. To apply it, download and then hit menu from the Android homescreen, select More, then ADW Settings. You can apply it in themes settings and choose whether to use regular icons or the theme's icons.
Change Homescreen Layout – You can access the ADW settings as described above and then customize a number of elements for the homescreen and app drawer. I changed the desktop columns so that more apps fit on the homescreen.
NewsRob – Since TinyRoot doesn't include Google apps, Google Reader won't work, but there are other RSS readers. NewsRob works well and uses your Google Reader feeds.
DropBox – Dropbox is one of the easiest ways to transfer files to and from a rooted Nook Glow.
Rooted Nook Glow Review – Plus Tips and Tricks