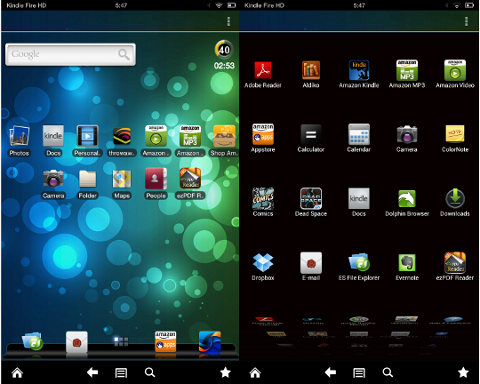 Here's some good news for Kindle Fire HD owners that are sick of Amazon's custom interface and want a more traditional Android tablet feel. The free version of ADW Launcher now works on the Kindle Fire HD.
Back in September after the 7″ Kindle Fire HD came out, I tried just about every alternate homescreen launcher I could find to get around using the carousel interface that Amazon forces us to use, but pretty much the only one that worked was ADW Ex, which is a paid app and is not easy to get onto the KFHD.
Thanks to a tip, I tried the free version of ADW again this morning and now it works great. It was updated back in December and now it works with the Kindle Fire HD just as well as the paid version.
You can download ADW Launcher for free at various app markets. Just make sure to get the newer version, 1.3.3.8. I downloaded a copy from over at 1Mobile, but I don't like recommending that site because they make downloading too confusing. If you download from there make sure to select to "install from PC" to get the apk file.
Just be aware that not everything is going to work 100 percent the way it is supposed to because of the way the Kindle Fire HD is configured. For instance, hitting the home button will not take you to the ADW homescreen; you have to hit the ADW app icon. A quick way to access it is to add it to the favorites menu.
Another thing is that you can't launch the Kindle ebook library from ADW. You have to go back to the regular homescreen to access the library. You can still add individual ebook titles to the favorites menu to get to them quickly.
There are other limitations too, but at least having an alternate homescreen provides some more options for customization and personalization, unlike the stock interface that doesn't allow for any customization at all. I put together a video review of ADW Ex back in September if you want to get a better idea of what it looks like and what to expect.