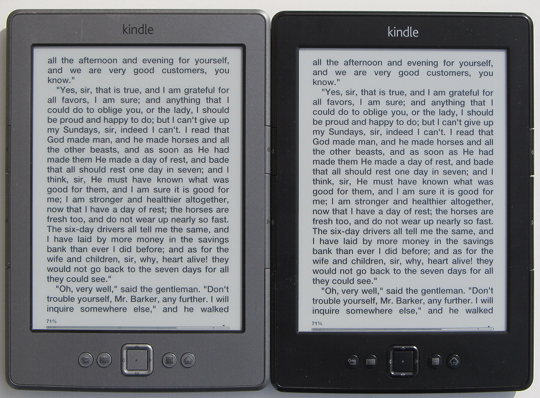 The latest $69 basic Kindle. Surprising, eh? The cheapest ebook reader on the market is the one with the darkest and boldest fonts. It's not even a close contest, either. It wins hands-down.
You'd think that the Kindle Paperwhite with its higher resolution screen would be better. But it's not. Fonts are thinner and sharper on the Kindle Paperwhite; they aren't nearly as dark and bold as the basic Kindle.
Even Kobo's ereaders with their advanced font weight settings can't beat the $69 basic Kindle. The Kobo Glo comes very close and in fact has bolder fonts with the Caecilia font weight setting maxed out, but the text looks more rough and fuzzy on the Kobo, whereas the Kindle's text is more refined and tuned for the E Ink screen, and it looks a little more inky black.
I know what you are thinking. What about the basic Kindle from last year? It's the exact same as this year's basic Kindle.
That's a valid point, and you'd think the fonts would look exactly the same. But they don't. For starters, this year's basic Kindle is black instead of grey. That alone makes the newer Kindle appear to have darker fonts; it's a well-known fact that black ereaders make text appear darker, even if it's just an optical illusion.
But that's not all. Side-by-side the newer basic Kindle appears to have slightly darker fonts. That's not an optical illusion. The same can be said when comparing it to previous generation Kindles as well. The font just appear slightly darker on the newer basic Kindle. Maybe it's just because it is a newer screen; it's hard to say for certain.
At any rate, if you're looking to get an ebook reader with the darkest, boldest fonts, the $69 basic Kindle is the one to get. It only has three font choices to choose from, but they are very thick and dark, especially the sans serif font. Other than Kobo's ereaders nothing else even comes close.