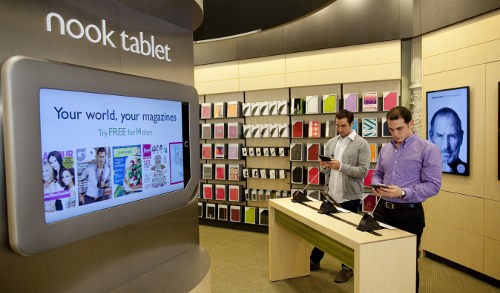 Barnes and Noble released their third quarter financial results today and the numbers, as expected, were not good.
Overall revenues decreased by 8.8% from last year, and even worse, Nook revenues from both digital content and Nook hardware fell by a gut-numbing 26%. Digital content sales actually rose by 6.8%, so that really shows just how much Nook sales have fallen off over the past year. And the increase in digital sales is nothing compared to the significant increases companies like Amazon and Kobo recently reported.
The crazy thing about all this is that Barnes and Noble's latest tablets, the Nook HD and Nook HD+, are actually really nice tablets for the price. I have an HD+ and the screen is incredible and the hardware is solid, and the Nook HD has the highest resolution screen of any 7″ tablet.
The reason they aren't selling well is because of B&N's insistence on locking down the software and limiting customers to just the Nook Store, which is woefully lacking in content. The selection of apps is especially horrific, and majorly limits the overall usefulness of B&N's tablets compared to everything else on the market.
Could you imagine how many tablets B&N could sell if they ran open Android 4.2 Jelly Bean instead of B&N's custom locked-down software? The Nook HD would instantly jump ahead of the Google Nexus 7 and Kindle Fire HD for a number of people because of the microSD card slot and higher resolution screen. Right now people don't even consider the Nook because of the limited number of apps and restrictive software.
It's a shame to see B&N continually running the Nook brand into the ground, but given their bullheaded approach and failure to evolve with the market it's not surprising. B&N will likely scale back Nook hardware moving forward and restructure their entire Nook Media business, but they have no plans of abandoning the Nook as some websites were reporting this past week. Instead B&N will run more sales and promotions to increase sales.
In fact B&N is already offering a new deal on both the Nook HD and Nook HD+ where they are giving away a $25 credit with the HD and a $50 credit with the HD+ to spend on Nook content—ebooks, apps, movies, etc.
I wonder how the decrease in sales is going to affect the release of E Ink Nooks moving forward. B&N usually releases a new E Ink Nook in the spring, and the GlowLight Nook Touch is in major need of an upgrade, given the fact its frontlight and text contrast are inferior to the Kindle Paperwhite and Kobo Glo.