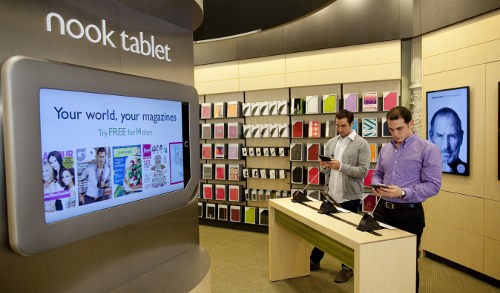 So the big news yesterday is that things are not going well for Barnes and Noble. They reported weak holiday sales and it's not just hardcovers and paperbacks that aren't selling well, it's Nook devices and Nook ebooks.
In fact Nook revenues fell 12.6% from last year's holiday sales period. As if that's not bad enough, overall sales at B&N bookstores and online went down by 10.9% from last Christmas. The most concerning thing about those numbers is that the Nook actually did worse than the rest of B&N's business.
Sales of Nook ebooks and other digital content rose by 13.1% over the holidays, but that doesn't sound nearly as impressive when compared to the 113% gain during the 2011 holiday season.
The sad fact is Barnes and Noble is slowly killing their Nook brand by mismanaging product releases, severely limiting their customer base, under-delivering on content (especially apps and videos), and the worst of it is the locked-down nature of B&N's ecosystem.
Nook apps only work on Nook devices, and Nook ebooks only work with Nook apps and Nook hardware. The people in charge at B&N think their products are so great that they want to lock customers into buying content solely from them. That might not be a bad approach if they actually had the content to pull it off, but that's far from the case. Their selection of Nook videos contains less titles than a typical nerd's collection of sci-fi videos.
The Nook Appstore is painfully lacking to the point it's hard to qualify their devices as tablets sometimes, more like half-tablets when compared to the competition. All B&N has to do is let people sideload apps from other sources like virtually every other current Android tablet on the market allows, including Amazon's Kindle Fire tablets, but instead B&N chooses to lock the gates from the outside world and force people to conform to the small little world they've created and then neglected.
It's not the price or the hardware that's hurting the Nook as much as the restrictive software and limited content. In fact the hardware and prices are quite good compared to the competition, which makes the slower growth in sales even more concerning.
Barnes and Noble better pull things together this year or they are going to end up like Borders, and the Nook is going to end up on the endangered species list. B&N has had a couple of investors throw money their way, but if they continue to run the Nook business into the ground the way they've been doing it's not going to matter.
Like I mentioned in an earlier article, if I were in charge of the Nook department things would be a lot different. Ebooks wouldn't have special B&N DRM that limits them to only Nook devices and apps, sideloading Android apps would be an option on Nook tablets, and international expansion would be a priority.