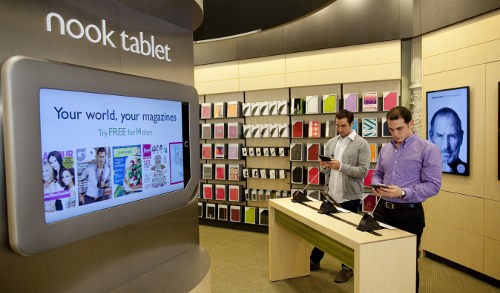 I'll admit I'm the last guy who should be calling the shots for any big corporate entity given my recalcitrant nature, but I can't help but think how different things would be for Barnes and Noble if someone like me was in charge of the Nook brand.
Barnes and Noble could make a lot more money and gain a lot more return customers if they just did these three things, especially the first one.
1. Drop B&N's ePub DRM in favor of regular Adobe DRM. No one is going to argue that DRM isn't a pain in the arse, but B&N goes and makes matters even worse by insisting on using their own exclusive DRM. This makes it so Nook ebooks will only work on a Nook device or with B&N's Nook software, thus closing off the entire market for all non-Nook devices, with a few exceptions.
There are tens of thousands of people out there with Sony Readers, Kobo Readers, Pocketbook ereaders, and all other non-Kindle ebook readers that support regular Adobe DRM. Not to mention all the people who like reading on their tablets with the Aldiko app or some other reading app that supports Adobe DRM.
None of these people can buy ebooks from Barnes and Noble simply because B&N chose to use their own proprietary DRM instead of the much more commonly supported Adobe DRM. Update: It turns out Aldiko does support B&N's DRM; you'd think they would mention that fact somewhere.
Barnes and Noble's ebookstore is very large and the prices are generally comparable with Amazon's. Unlike Amazon, B&N has a huge advantage by the fact their ebooks are in ePub format, which is supported by virtually all ereaders. Yet they aren't taking advantage of this at all and probably never will.
Limiting your market is never a good way to succeed. Worse, B&N is doing it in more ways than one…
2. Launch the Nook brand internationally. Right now Nook devices and Nook ebooks can only be purchased in the United States. There have been whispers on the wind of B&N expanding the Nook brand internationally, but that has yet to happen.
It's concerning that B&N continues to remain rooted in the US while other markets are being dominated by their competitors. Amazon's reach for the Kindle store extends to nearly 200 countries. Kobo has been vigorously expanding internationally too. Even Sony and Google who only seem to be half-interested in the ebook market have expanded outside the US. In fact B&N is the only ebook company I can think of that limits their market solely to the Unites States.
3. Tear the doors off the Nook's gated community. If B&N wants to remain in the conversation for Android tablets, they are going to have to start doing things differently. They can't continue to lock customers into the Nook Appstore only. Let people sideload apps from other sources to make them happy.
The Nook appstore is never going to be able to compete with other appstores out there. Right now B&N's Nook appstore has about 5500 apps. By contrast, Amazon's appstore has over 47,000 and Google's appstore has something like 600,000.
Also, if B&N wants an Android appstore they should go all out and do it right instead of just making it a walled garden for Nook owners. Put out a Nook appstore app and let other devices have access to the store too.
—
All of these changes are things Barnes and Noble's competitors have managed to accomplish so it's not like we are talking about insurmountable achievements here. Everyone else in the ebook and ereader field is moving forward while Barnes and Noble is standing still.