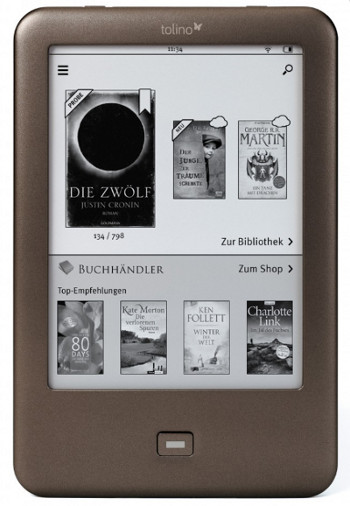 The Tolino Shine is a new ebook reader that is going to be available in Germany starting March 7th.
The Tolino Shine was born through a partnership with Bertelsmann and Deutsche Telekom and Germany's leading bookstore chains—Thalia, Weltbild, and Hugendubel.
The device will sell for €99 (about $129 USD) from 1500 partner retail stores and online. It will be competing with Germany's other ebook reader brands, most notably the Amazon Kindle and Kobo.
The Tolino Shine has a 6″ E Ink high-res screen with 1024 x 758 pixels. It also has an integrated frontlight and an infrared touchscreen. The device comes with 4GB of internal storage, 25GB cloud storage, and a microSD card slot.
The Shine has Wi-Fi for downloading ebooks through an integrated ebookstore that contains 300,000 German-language titles, and it can also download ebooks from the individual booksellers' websites. The Tolino Shine supports EPUB, PDF and TXT ebooks, so choice of content selection is going to be wide open.
Other specs include an 800 MHz processor, 256 MB RAM, 7 week battery life, and access to 11,000 free Wi-Fi hotspots via Telekom in Germany.
One of the most interesting details about this new ereader according to the specs is it has an Android operating system. That could potentially lead to some interesting software modifications and the ability to install Android apps. The Nook Touch and Sony PRS-T1 and T2 all run Android and they can be hacked to install other ereading apps and do all kinds of crazy things. It'll be interesting to see how the Android twist develops on the Tolino Shine. It sure makes me wish I could get my hands on one of these…
Tolino Shine – Hands On (german/deutsch)
Via: Gigaom