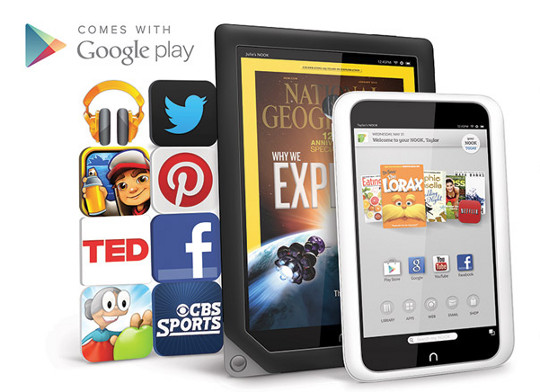 Lately I've been getting tired of posting about all of Barnes and Noble's various Nook sales and promotions every week, but this one is too good to pass up.
Through Mother's Day, May 12th, Barnes and Noble is selling the 7-inch Nook HD tablet for $149 and the 9-inch Nook HD+ tablet for $179 both online at Nook.com and in B&N retail stores. That's $50 off the regular price of the Nook HD and $90 off the price of the HD+.
Last week I wouldn't have thought that it was the greatest deal and probably wouldn't have dedicated a blog post to it, but now that Barnes and Noble has added support for the Google Play store and Google apps, the deal is looking a lot more enticing.
There aren't many options out there for 7-inch tablets with high resolution screens under $150, and finding a larger 9-inch tablet with over 250 dpi for $180 is unheard of.
The Nooks have a few shortcomings compared to similar tablets, like the lack of cameras, the need for a special and pricey adapter to connect to a TV, and the quirks of B&N's modified operating system, but they do have really nice high resolution IPS screens for a good reading experience, a microSD card slot, and Bluetooth.
Now that B&N has added Google Play access the Nook isn't confined to just Barnes and Noble for content. You can get apps, movies, music, and ebooks from Google, and you can even install alternate reading apps like Kindle and Kobo if you so choose. You can also install different Android launchers to change the homescreen.
I'll be posting a review of the new and improved Nook HD+ shortly so stay tuned for a closer in-depth look. In the meantime you can check my original review of the Nook HD+ for a look at all of its features minus Google Play.