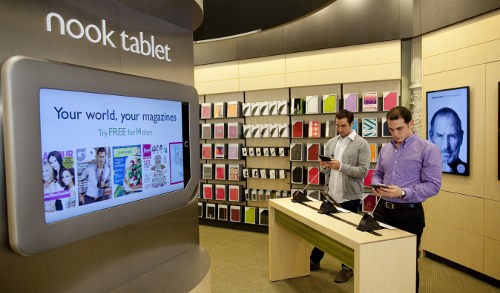 Barnes and Noble announced some changes moving forward with the Nook brand today with the release of their fourth-quarter and full-year earnings report. Losses were greater than expected, so B&N is making some changes.
Barnes and Noble has decided to stop making new Nook tablets, and instead will focus on partnering with other manufactures to get the Nook brand and apps preloaded onto 3rd party devices, like they announced with E Fun and Nabi tablets yesterday.
B&N plans to continue selling the Nook HD and Nook HD+ through the holiday season, but they aren't going to make any new tablet devices because they feel there are too many risks associated with manufacturing them. B&N had great success with their first tablet, the Nook Color, because they were one of the first companies to bring a 7-inch reading-focused Android tablet to the market, but after that all the other manufactures caught up and started releasing better tablets at lower prices, ones that weren't locked into B&N's ecosystem.
With all the competition in the Android tablet field, B&N really doesn't stand much of a chance anymore, so doing away with the tablet division is a logical step to help save the company from further losses.
While it's disappointing to see Nook tablets going extinct, at least B&N still plans to make Nook reading devices like the Nook Simple Touch and GlowLight Nook.
Here's the key info from the press release:
The company plans to significantly reduce losses in the NOOK segment by limiting risks associated with manufacturing. Going forward, the company intends to continue to design eReading devices and reading platforms, while creating a partnership model for manufacturing in the competitive color tablet market. Thus, the widely popular lines of Simple Touch and Glowlight products will continue to be developed in house, and the company's tablet line will be co-branded with yet to be announced third party manufacturers of consumer electronics products. At the same time, the company intends to continue to build its digital catalog, adding thousands of eBooks every week, and launching new NOOK Apps.
William Lynch, B&N's CEO, goes on to say that they plan to continue to innovate in the single purpose black-and-white eReader category. It has been over 1 year since the GlowLight Nook Touch was released, so B&N is already overdue for a new model; it will be interesting to see what they bring to the table with the next Nook reading device.