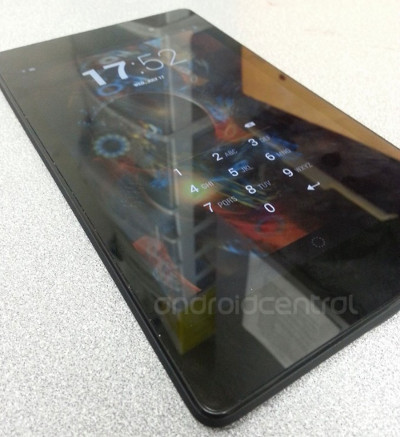 Google is expected to release an updated model of the Nexus 7 tablet soon. Rumors have really started ramping up this past week with leaked pictures showing up, screenshots of pricing info from retailers, and a scattered sampling of technical specs.
Right now no one is really sure what to expect from the Google Nexus 7 2. Some of the leaked info is contradictory and you never know if the leaked pictures are of a prototype or the final product.
Nothing is certain until we hear the news from Google themselves, whom has scheduled a press event in San Francisco on Wednesday, July 24th. It's likely they will announce the new Nexus 7 then, but it's not certain. The leaked documents from retailers suggest they are receiving shipments on July 20th, so that would sync up unless the rumors are all apart of some big conspiracy.
Personally, I hope the early pictures and specs are wrong because I can't help but be disappointed by them. First and foremost, two separate rumors suggest a price increase for the Nexus 7 2 over last year's models. Instead of selling for $199, the 16GB model is listed in retailer's inventory at $229 and the 32GB model is $269.
The price increase could be worth it if the specs and features have improved, but none of the leaked documents thus far suggest any serious additions. I've seen nothing about a microSD card slot or HDMI port. The Nexus 7 2 is expected to add a 5MP rear camera and feature a higher resolution screen (1920 x 1080 pixels perhaps, or maybe 1980 x 1200), which is great, but tablet cameras are rarely very good and I'm not sure a higher resolution screen is worth jacking the price up by 15% when other companies' prices remain the same with a refresh.
Much is being made about the potential processor being used, but techies put way too much stock in processors; it's not like the original Nexus 7 is too slow or anything. The Nexus 7 2 is said to be using a Qualcomm chip this time instead of Nvidia. It could be a Snapdragon S4 Pro processor or maybe a quad-core Snapdragon 600 processor.
I'd expect Google to keep all the features from the original Nexus 7, such as Bluetooth, GPS, NFC support, and options for 4G LTE wireless. Google is unlikely to downgrade on any of those features.
It will be interesting to see what else the new Nexus 7 gets; there are certainly some secret goodies no one has heard about yet. Guess we'll have to wait and see when Google officially announces it.
Update: Another day, another leaked photo revealing new details about the next Nexus 7 (should I go out on a limb and call it the Google Nexus 7 HD?—Google Nexus 7 2 is too awkward with the double numbers). It looks like one of the shiny new features is wireless charging—that sounds pretty cool (hope it doesn't have to be in a special case for that to work, though). There's still no mention of an HDMI port, but now leaked info is showing the new Nexus 7 will have a "slim port" for outputting 1080p content. I've never heard of a slim port so I looked it up. It is basically an adapter for connecting an HDMI cable through the device's micro USB port. Slim Ports sell for $29.95 on Amazon.