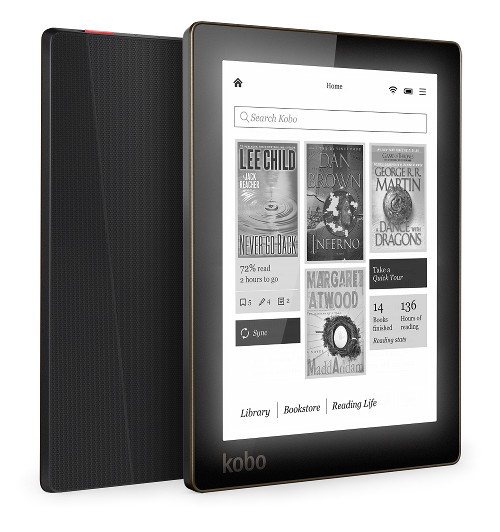 Kobo just introduced a smaller version of their special edition Kobo Aura HD, simply called the Kobo Aura. It's a lot like last year's Kobo Glo, which is going to remain on the market along with the Kobo Mini, but it comes with a new design and is being marketed more as a higher-end version of the Kobo Glo.
Like the Kobo Glo, the Kobo Aura has a frontlit 6-inch E Ink screen with a 1024×758 resolution. There's one minor difference, though. The Kobo Aura is the first Kobo ebook reader to use a capacitive touchscreen instead of infrared like the Glo, Touch, Mini, and Aura HD before it. That's not surprising considering E Ink now sells displays with frontlights and capacitive screens already equipped.
Other specs for the Kobo Aura are similar to the Aura HD. It has 4GB of internal memory and is powered by a 1GHz Freescale processor. There's a microSD card slot for additional storage space, Wi-Fi, and battery life is estimated at around 2 months.
The Kobo Aura is slightly little thinner and lighter than the Glo (0.07 inches thinner and 0.4 ounces lighter), and the design is modeled more after the Aura HD with the angled back rather than the textured quilted pattern of previous Kobo ereaders.
Interestingly, Kobo says they've been working with E Ink to reduce how often the page needs to refresh, thus lessening the frequency of page refreshes on the Aura's screen, but they are not using E Ink's new upcoming screen tech that is supposed to be an upgrade from Pearl. According to E Ink, someone is going to be releasing an ebook reader this year with the new screens; Kobo isn't it.
The new Kobo Aura is up for pre-order right now at Kobo.com. It is expected to start shipping on September 11th. Unfortunately you'll have to pay a little more for it than the Glo. After much success with the Kobo Aura HD at a higher price, Kobo has decided to increase the price of the Aura by $20, making it $149 in the US and Canada.
Of course I ordered one for review so check back soon for more info. I also decided to try Kobo's sleep cover this time too.