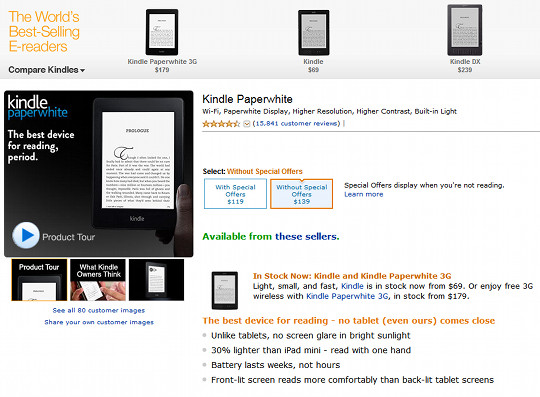 Yesterday I reported about how Amazon had suddenly stopped selling the $119 Kindle Paperwhite with Special Offers, that it was only available used and there was no mention of a return date when it would be back in stock.
Now the $139 non-ad Kindle Paperwhite is gone too. It disappeared yesterday evening, less than 24 hours after the cheaper model became unavailable.
That leaves just the 3G Kindle Paperwhite left. And it's not very affordable at $179 for the Special Offers version and $199 without ads.
It's hard to read exactly what is going on here. Usually when a device is getting replaced by a newer model, it becomes cheaper, not more expensive. Amazon is giving customers little option but to purchase the much more expensive model. The cheaper basic Kindle is still available, but of course it lacks a touchscreen and a frontlight.
Amazon is expected to announce a predecessor to the Kindle Paperwhite soon, but as I mentioned yesterday they still haven't even scheduled a press event yet, so a new Kindle is a couple weeks away yet at least.
It's hard to imagine Amazon going that long without the Wi-Fi Kindle Paperwhite, but they give us no indication that it is coming back any time soon. The product page now directs customers to the other Kindle pages for models that are in stock now, instead of giving a date of its return.
It's looking more and more likely that the Wi-Fi Kindle Paperwhite is a goner for good on Amazon.com. The curious thing is that they are still selling them internationally on other Amazon websites such as Amazon.ca, Amazon.de, and even the new Amazon.in.