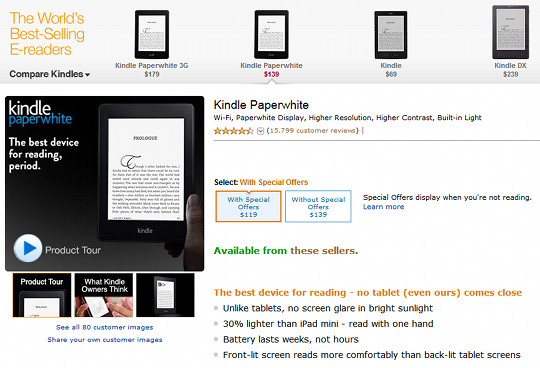 Here's an interesting twist. As of this morning, Amazon is no longer selling the base Kindle Paperwhite, the cheapest model that comes with Special Offers that normally sells for $119.
The $139 Wi-Fi Paperwhite without Special Offers is still available, as are both 3G Paperwhites. But what happened to the other one?
It might very well just be a simple supply issue, or a glitch. It could reappear later today. Who knows… Or maybe Amazon doesn't care to replenish stock because they have a new model ready to take its place.
One thing to note is that there currently isn't anything saying that the $119 Kindle Paperwhite will be back in stock soon; usually Amazon has a note saying when an item will be available again. But not this time. The product page instead directs to marketplace sellers where you can only buy it used.
Another interesting detail is that the $119 Kindle Paperwhite has been removed from the Kindle banner at the top of Kindle device pages. It now lists the $139 Kindle instead.
Usually Amazon releases a new Kindle before they stop selling the older ones so this is a bit of a head-scratcher. And since Amazon hasn't even scheduled a press event yet, a new model likely won't be available until the second week of September at the earliest.
Kobo has scheduled an event for tomorrow where they will likely announce a new Kobo Glo ebook reader, and a tablet perhaps.
It probably won't be long now before Amazon does the same. Disappearing Kindles are a good sign that a new model is about to be released.