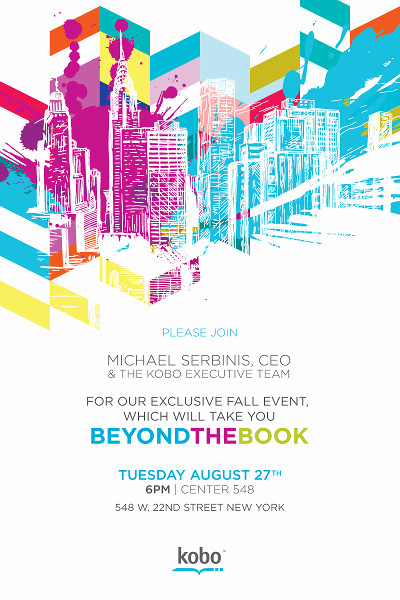 This past week Kobo did a couple of things to strengthen the notion that they plan to announce new devices soon. Most notably, Kobo sent out invitations to a press event to "See What's Next from Kobo" scheduled for Tuesday, August 27th in New York.
Most likely Kobo will unveil what appears to be a new Kobo Glo ebook reader that showed up on the FCC website last month. And if they plan on refreshing the 6″ model, why not release a new Kobo Mini as well?
The 5″ Kobo Mini seems to have done quite well for Kobo. At $79 it is a good entry model, and it often goes on sale for as low as $49. No FCC paperwork turned for a new Mini, however, so perhaps Kobo will keep it as-is for now. Adding a frontlight to it sure would be sweet, though.
It's looking highly-likely that Kobo will announce a new tablet later this month. Their current tablet offering, the Kobo Arc, just got a drastic price cut this week. The 64GB model went down $100 from $299 to $199, and the 16GB and 32GB models got a $70 price decrease, down to $129 and $179 respectively. That's not a bad price for a 7″ tablet with a 1.5GHz dual-core processor, 1280 x 800 resolution screen, and Google Play access.
Technically Kobo is calling it a sale and not a price drop, but it's obvious they are trying to unload remaining stock.
With Amazon expected to announce new Kindles very soon (possibly at the end of August), and Sony expected to announce the PRS-T3 that leaked last month, and with Barnes and Noble likely to add something new to the mix as well it's going to be an interesting next couple of months in the ereading market.