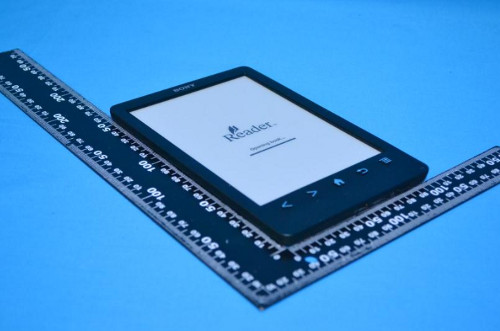 Paperwork for Sony's next generation PRS-T3 ebook reader has turned up at the FCC.
The funny thing is this is exactly how things played-out last year when the PRS-T2 showed up on the FCC website in early July before Sony ever announced it. Then it officially went on sale in mid-August. I'd expect the same to happen with the PRS-T3.
Unfortunately the FCC paperwork doesn't reveal very many details about the device. We know that it has Wi-Fi and a 3.6Wh battery, but that's about it.
There are some images of the PRS-T3 at the bottom of one of the documents that do answer a few questions, though.
First off, it looks a lot like the Sony Reader PRS-T2. The buttons are exactly the same, in fact. But the design is different. It no longer has the flare at the bottom and is more rounded at the edges. The cover for the microSD card slot has been removed from the back of the device, and it now appears the card slot is on the bottom edge of the device next to the micro USB port.
Given the width of the device, it is certain that it has a 6″ screen and not a larger 6.8″ screen like Kobo Aura HD.
But one thing that is impossible to tell from the pictures is if the PRS-T3 has a frontlight or not. If it doesn't have a frontlight then it could be a huge disappointment because what else could Sony do to upgrade it from the PRS-T2, which in itself was totally disappointing because it was 95% the same as the PRS-T1 (if anything it was a downgrade because they removed the audio features).
I guess we'll have to wait and see what new features it has. I'd put my money on it at least having the higher resolution 1024 x 758 E Ink screen, but other than that who knows what to expect.
What new features do you think the new Sony Reader PRS-T3 will have?