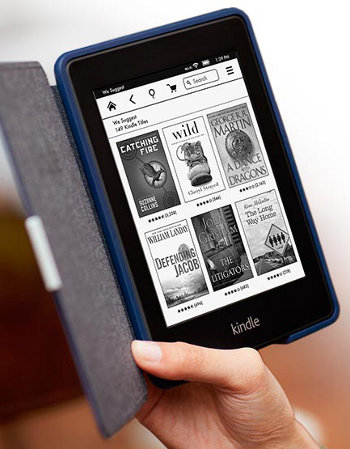 Something occurred to me this past week with the WiFi Kindle Paperwhite becoming unavailable from Amazon.com (unless you live outside the United States, that is).
Why does Amazon charge more for the Kindle Paperwhite with 3G wireless?
Why do WiFi-only E Ink Kindles exist at all?
After all, when we really stop to think about the wireless capabilities on the E Ink Kindles and the features that brings—primarily buying ebooks from Amazon—you'd think that Amazon would benefit more by having a line open with all their Kindle customers at all times.
It's not like the old days with the Kindle 3 and earlier keyboard models where you could use the 3G wireless to surf the web, check email, and do all kinds of things on Amazon's dime because the wireless was free once you purchased the device.
But since the release of the Kindle Touch, and the so-called improved web browser that can now only be used with WiFi, Amazon has made it so that 3G Kindles can only access Amazon's website to buy ebooks and other items, as well as Wikipedia and Shelfari for certain features.
The main thing 3G wireless is used for on E Ink Kindles is to buy things from Amazon when WiFi is unavailable.
So why are we paying more for that feature?
And why is Amazon choosing to limit the number of devices that have the ability to purchase ebooks and other items from them at any time?
I'll admit that there's been more than a few times when I was away from WiFi where I would have bought something from Amazon had my Kindle had 3G wireless. You can't always prepare ahead; sometimes you want to download an ebook right now when you're thinking of it, or when plans change.
It seems like Amazon would benefit more from having free 3G on all their E Ink Kindles, especially when that's something none of the other brands even offer at all. It would separate the Kindle from other ebook readers even more.
Right now Amazon charges $60 extra for the Kindle Paperwhite models with 3G. They say right at the top of the page that the 3G wireless is "free". Well, last I checked $60 wasn't free, even if there are no monthly wireless charges. That's a 50% increase in price from the WiFi Paperwhite. You're paying for wireless up front instead. The modem doesn't cost Amazon that much extra to install.
I think it's time that Amazon does away with WiFi-only E Ink Kindles altogether. Go back to how things used to be and give all the Kindles free 3G. Sure it might cost a little more to buy one up front, but Amazon already has the lowest prices so what's another $20 or so (that would be a lot more fair than $60).