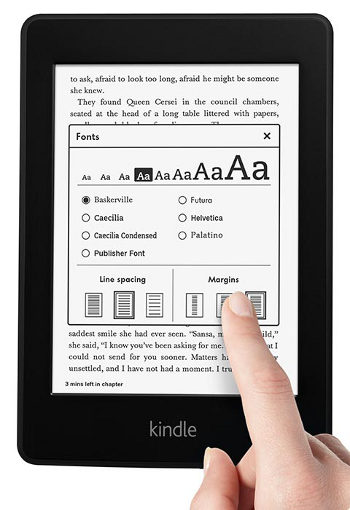 All week I've been keeping track of the mysterious Kindle Paperwhite disappearance, posting articles when the $119 model became unavailable and then again the next day when the $139 Paperwhite vanished, leaving only the more expensive Kindle Paperwhite with 3G wireless available for purchase.
Then yesterday I noticed something even stranger that makes me think that there is no shortage on the WiFi Kindle Paperwhite at all, that Amazon is instead selectively choosing not to sell them to people in the United States anymore. This makes it even more likely that Amazon is going to announce the Kindle Paperwhite 2 very soon.
The reason I think Amazon has decided not to sell WiFi Paperwhites specifically in the US at this time is because they are still selling them internationally from Amazon.com. I could understand if they were selling them from the international Amazon websites, but in addition to that they are still selling WiFi Paperwhites from Amazon.com.
Typically Amazon doesn't advertise the international Kindle pages, you just have to know where to look for them. I stumbled across the international WiFi Kindle Paperwhite page yesterday and surprise, surprise. The product page says the $139 WiFi Paperwhite is in stock and ready to ship today. Just as long as you don't live in the US, that is. Select US from the drop-down list and it directs you to the other WiFi Paperwhite page where it is out of stock and only available used.
Everyone knows that Amazon usually releases new Kindles the last of the year, and they are expected to make an announcement soon, but Amazon has never handled a new product release like this before, making a certain model unavailable leading up to launch. Usually Amazon can't let go of older models and they keep them around for ages. Just look at the Kindle DX. It was released way back in 2010 and it's still around.