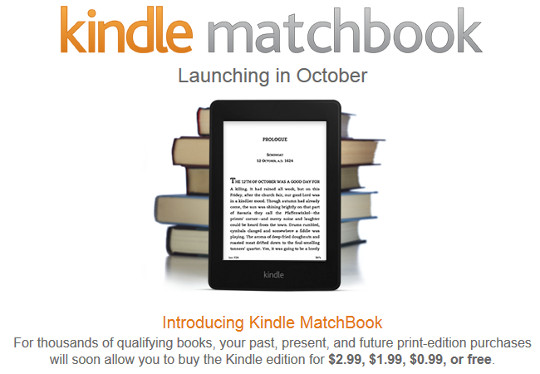 Earlier this week, before announcing the Kindle Paperwhite 2, Amazon made headlines by introducing something they plan on introducing in October called Kindle MatchBook (no, it's not Kindle-branded matches).
Kindle MatchBook allows customers who purchase the printed copy of a book to get the ebook copy for cheap—$2.99, $1.99, or $0.99—or even free.
What's great about this is that it goes back to past purchases too, dating all the way back to 1995 when Amazon first started selling books online.
"If you logged onto your CompuServe account during the Clinton administration and bought a book like Men Are from Mars, Women Are from Venus from Amazon, Kindle MatchBook now makes it possible for that purchase—18 years later—to be added to your Kindle library at a very low cost," said Russ Grandinetti, Vice President of Kindle Content. "In addition to being a great new benefit for customers, this is an easy choice for publishers and authors who will now be able to earn more from each book they publish."
There are a couple of catches, of course. The main one being that publishers have to agree to it. Right now only a few publishers are on board, with about 10,000 books enrolled. Some authors include Ray Bradbury, Michael Crichton, Blake Crouch, James Rollins, Jodi Picoult, Neil Gaiman, Marcus Sakey, Wally Lamb, Jo Nesbo, Neal Stephenson, and J.A. Jance.
Amazon is trying to get more publishers to enroll their books in the Kindle MatchBook program—right now that's the primary purpose of the announcement, seeing as how people can't start taking advantage of it until next month.
The second stipulation is a little less clear. Reading between the lines it would appear that in order to get the Kindle ebook at a discount or for free the paper book would have to be purchased from Amazon themselves and not from one of their third-party merchants, and it has to be purchased new, not used. This isn't stated specifically anywhere, but it's implied. We'll have to wait until October for the finer details, I guess.
Despite some of the limitations, Kindle MatchBook sounds like a great idea. Bundling ebooks with paper books is something a lot of people would like to see happen. The biggest problem is going to be getting publishers on board with it, especially the Big 5. But if Amazon can pull it off this could be yet another big step in the book industry. Barnes and Noble would be wise to copy this idea pronto, especially if they could make it work with Textbooks.