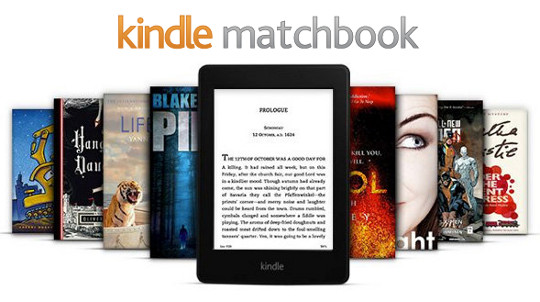 Today Amazon officially launched their new program called Kindle MatchBook, which gives customers that purchase a print copy of a book from Amazon to get the ebook edition for $2.99 or less, sometimes free.
The most interesting aspect of Kindle MatchBook is that it applies to past purchases as well as new purchases. So anyone who has ever ordered a new printed book from Amazon since 1995 when they first opened can get the Kindle copy for cheap, if the book is in the program. And you don't have to own a Kindle either; you can use one of Amazon's reading apps to read the Kindle edition on a smartphone, tablet, computer, or web browser.
You can check the Kindle MatchBook page at Amazon to see if you've purchased any titles that qualify.
There's also this list at Amazon with all the titles available for Kindle MatchBook. Right now there's just over 74,000 titles available.
Considering the millions of books Amazon sells, 74k is just a drop in the bucket. At least it's a lot more than the 10k quoted last month in the initial announcement. Hopefully Amazon will be able to get more publishers to agree to this and the selection can continue to grow.
If you are browsing Amazon and are wondering if a book qualifies or not, they make it easy to tell by putting a Kindle MatchBook banner below the price, and it also displays the cost of the Kindle edition.
For me personally I've purchased zero books that qualify, but that's not surprising since I mostly bought used books from Amazon before ebooks came along.
How many books do you have that qualify? Do you plan on purchasing the ebook copy too?