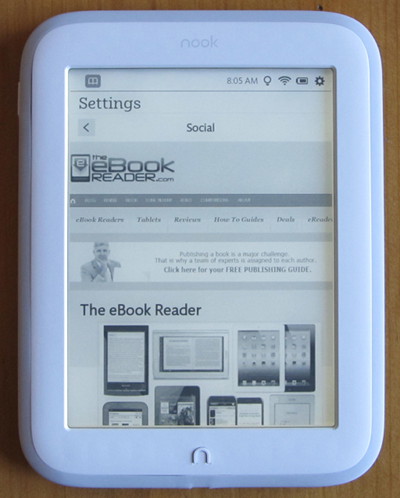 The Nook GlowLight from Barnes and Noble offers a good reading experience for ebooks with its high resolution, evenly frontlit screen, but it lacks a lot of advanced features found on competing brands of ebook readers.
Kindle and Kobo ereaders, for instance, have web browsers for light web reading and for downloading ebooks from various websites online. E Ink web browsers generally don't work great but they come in handy sometimes.
The Nook GlowLight doesn't officially have a web browser, but like the Nook Touch and Nook Touch with GlowLight before it, there's a hidden web browser that can be accessed if you know the special trick. The browser doesn't work very well and is very limited but it does function somewhat if you really need to use it for something.
Here's the steps to access the hidden web browser on the Nook GlowLight:
Tap the top of the screen to bring up the menu bar.
Tap the upper right to open the quick settings menu.
Tap All Settings.
Select Social from the list.
Select Link to Facebook, Twitter, and Google.
Select to Link Your Account under Google.
Tap the link for Need Help? under the sign in box.
Select the link at the bottom left of the page for Google Home and that will take you to the Google search homepage where you can type searches in the search box.
Again, the web browser doesn't work very well, and there are no features to speak of (not even a back button) and it doesn't work for downloading ebooks (I tried) but it's there if you really need it.
Nook GlowLight Web Browser Trick