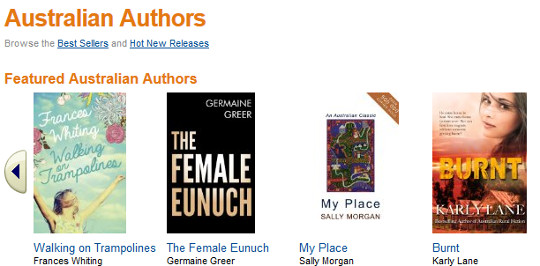 Amazon pulled opened the doors on a new Kindle Store today specifically tailored to residents of Australia.
Now Australians can buy Kindle ebooks directly from Amazon.com.au instead of Amazon.com, and pay in Australian dollars instead of US dollars. Amazon is showing some 2.1 million titles available, including everything from cookbooks to comics and graphic novels.
Interestingly, Kindle devices, including the new Kindle Paperwhite and Kindle Fire HDX tablets, aren't being sold directly from the new Australian Kindle Store website. Instead the product listings direct to Amazon.com to purchase in US dollars, or local authorized retailers in Australia, namely Dick Smith and Big W.
So basically at this point in time the Australian Kindle Store is for ebooks only, which is rather unusual compared to other localized Kindle stores. Nevertheless, 2.1 million ebooks is a good start.
Amazon also announced that independent authors and publishers are now eligible to make their books available in the Australian Kindle Store using Kindle Direct Publishing and start earning up to 70% in royalties.