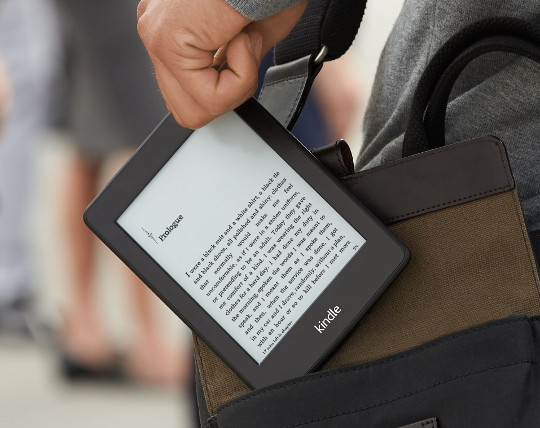 TechCrunch has posted an article about a new Kindle Paperwhite that they have supposedly seen and that is supposedly going to be released early in the second quarter of 2014.
Given the fact that Amazon just released the Paperwhite 2, I have my doubts about the story, but then again someone at TechCrunch seems to have it in with someone at Amazon because they often leak details about upcoming Kindles that turns out to be true (it's almost as if Amazon selectively chooses to release information like this at specific intervals throughout product development, like they are trying to gauge interest and opinion before committing).
According to the article, Amazon is prepping a new Kindle Paperwhite with a super high-resolution 300 ppi E Ink screen. The new Kindle is said to have an updated design more in line with the Kindle Fire tablets, with a flush edge-to-edge screen, angled edges, and rear power button placement.
Amazon is also said to be bringing back page-turning buttons. Sort of. Not physical buttons but senors in the frame that detect pressure and give off haptic feedback when pressed.
Another possible hardware upgrade is the addition of an ambient light sensor that automatically adjusts the frontlight brightness based on lighting conditions.
What it sounds like is Amazon is basically trying to figure out how to stick an E Ink screen in a tablet's casing. And they are using the Kobo Aura and Kobo Aura HD as inspiration. After all, the Kobo Aura is the first ebook reader to have a flush screen, and the Kobo Aura HD has the highest resolution E Ink screen at 265ppi.
That's a good reason why I think there could be some truth to this new Kindle rumor. I could see Amazon releasing a premium version of the Kindle Paperwhite at a higher price while keeping the current model around, much like Kobo has done with their Aura ebook readers.
It would be great if Amazon would bring back the Kindle DX or some other larger-screen E Ink Kindle, but the article at TechCrunch doesn't mention anything about a size change with the prototype they saw. Things could easily change in a few months down the line. It will be interesting to see how this all turns out.