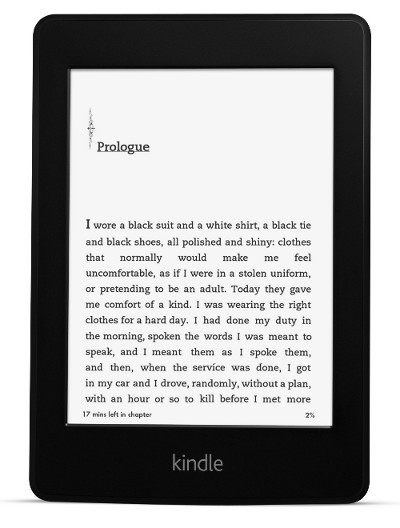 Review Date: October 2013 – Review unit purchased from Amazon.com
Kindle Paperwhite 2 Review
Like with my recent review of the Kobo Aura, I've decided not to do a super-long detailed review for the 2nd gen Kindle Paperwhite because it's 90% the same as the original Kindle Paperwhite from last year. I'll cover the new features in this review, and I've put together an updated video walkthrough below, but for everything else please refer to the Kindle Paperwhite review from last year—just skip down past the video and the rest of the review still applies to the 2nd gen model just as much as the first, except the section about the frontlight.
I already posted an article about how the new Kindle Paperwhite has a much-improved frontlight, along with some thoughts on the new E Ink Carta screen tech. The only other two hardware upgrades include a faster processor, which does make the device a little bit quicker to respond, and a slightly tighter capacitive touchscreen grid, which I'm sure helps but I can't tell any difference. Otherwise the two devices look identical and are the exact same shape and size.
From a software perspective, the new Kindle Paperwhite basically has three new features, with two more, Goodreads integration and Kindle FreeTime, coming at a later date. The first new feature is called Kindle Page Flip, which opens a window on the screen where you can scan through pages of the book using fast page-turning, jump from chapter to chapter, and skip around pages without leaving the initial page you started from.
The second new software feature is called Smart Lookup. They basically just changed the menus so then when you highlight a word, tabs for Wikipedia and X-Ray get added to the dictionary window. Also, if you highlight a name it will automatically open the X-Ray description instead of the dictionary.
The last new main software feature is a vocabulary builder. Every time you lookup a word in the dictionary while reading it gets added to a vocabulary list that can be accessed from the homescreen or settings menu. You can review the words on the list, delete them, mark them as mastered, look them up in the dictionary, and view flashcards to review the sentence where the word appeared. It's a pretty cool new feature.
There are a couple of other subtle software differences too. Footnotes now open a new window instead of leaving the page. Bookmarks are handled differently than before. It's now a two step process of tapping the upper right corner and then selecting to add a bookmark. And it now lists previous bookmarks when you tap the upper right corner, and if you tap on one it opens a window that shows its location without leaving the page.
These new software features and more are all shown in action in the video review at the bottom of this article. Here are a few pics: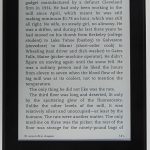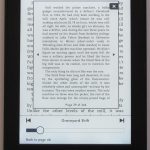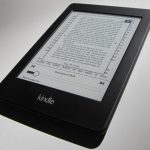 Pros
The frontlight is much better than last year's model; the lighting is more evenly distributed and there aren't any distracting discolorations. In fact my Kindle Paperwhite 2 has the best frontlight of any ebook reader that I've seen yet, and it has good range of bright and dim levels.
The screen is clear and easy to read and provides a good reading experience in all lighting conditions, from completely dark to direct sunlight.
Feels light in hand and is comfortable to hold for long periods.
Less page flashing. Partial refresh has been extended to about 14 pages, meaning that's how long before the E Ink screen flashes black. For some people this is a big deal, for others you can turn it off. At first I was noticing way more ghosting with partial refresh on, but now I don't see ghosted text much at all. For a while my Kindle Paperwhite was acting strange by refusing to do partial refresh at all. After a few days and a couple of restarts partial refresh started working again, and now seems to do a better job. Maybe it wasn't working properly in the beginning and that's why I was seeing more ghosting. Who knows…
Cons
Incremental update. If you are happy with the frontlighting on the original Kindle Paperwhite, there isn't any reason to upgrade (there's a good chance Amazon will update the software of the 1st gen to add the new software features since that's what they've done in the past).
No innovation. This is essentially the exact same Kindle that Amazon released last year. The screen is slightly better and the processor is slightly faster. Big deal.
Still no ePub support or memory expansion—never going to happen anyway but still valid points.
The alternate fonts trick no longer works. On the 1st gen Paperwhite it's easy to sideload your own fonts, but the same method doesn't work on the new Paperwhite.
The 3G model got a $10 price increase from last year.
Verdict
On one hand the new Kindle Paperwhite is kind of disappointing. It brings nothing new to ebook readers and is basically just a carbon copy of the original Paperwhite from last year. On the other hand the new Paperwhite's frontlight is much better than last year's model and that alone makes for a more enjoyable reading experience.
Given the lack of competition in the US, Amazon doesn't really need to do much to maintain their control over the dedicated ebook reader market. About the only other ebook readers left standing in the US are Kobo and Nook. Sony has stopped selling ebook readers entirely. Kobo has no retail presence, and B&N just took away most of the unique features from the new Nook that previously separated it from the Kindle.
Amazon doesn't really have to do anything at all and they are still going to be gaining ground over the competition. I guess we should count ourselves lucky that they bothered to improve the Kindle Paperwhite at all; the basic Kindle hasn't gotten any hardware upgrades in over 2 years, and the Kindle DX is a dinosaur.
Competition is dying out. Choices are dwindling. It would be great if companies could successfully stand up to Amazon and make things more competitive in the ebook reader space, but that doesn't look like it's going to happen. Amazon knows how to sell ebooks and make ereading easier and more convenient than anyone else. It's not even close. That's why the Kindle Paperwhite will continue to remain at the top of the ebook reader pyramid, and now that the screen is the best in the business things aren't going to change any time soon. For me it's clear that the 2nd gen Kindle Paperwhite is the best ebook reader on the market—and sadly that's just going to stagnate innovation and competition even more.
Price: $119-$209 at Amazon
Kindle Paperwhite 2 Specs
6" E Ink Carta display.
1024 x 758 pixel resolution (212 dpi).
Capacitive touchscreen with 2 point touch for pinch-zooming.
Built-in LED frontlight for reading at night.
1 GHz processor.
2GB internal memory (1.25GB usuable).
Wi-Fi 802.11 b/g/n.
Optional 3G via AT&T's 3G network in the US and partner networks outside of the US.
Supported formats: Kindle Format 8 (AZW3), AZW, TXT, PDF, unprotected MOBI, PRC; HTML, DOC, DOCX, JPEG, GIF, PNG, BMP through conversion.
Battery Life: 3-8 weeks.
Weight: 7.3 oz – 206 grams.
Dimensions: 6.7″ x 4.6″ x 0.36″ – 169 x 117 x 9.1 mm.
Kindle Paperwhite 2 Video Review