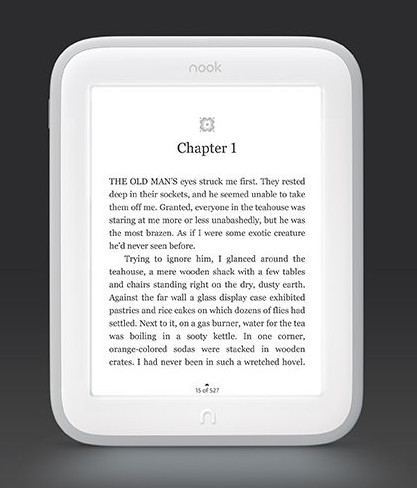 Barnes and Noble announced a new Nook GlowLight ebook reader today that is available now in B&N retail stores and online at Nook.com for $119, with a 10% discount for B&N members.
B&N has dropped the "Simple Touch" designation and is calling the new device simply "Nook GlowLight".
B&N is claiming the Nook GlowLight is the best ereader yet, but I have some serious doubts. While there are a couple of new features to get excited about, it's what's missing that's going to keep most would-be buyers from getting one.
Let's start with the good news: the display. As expected, the Nook GlowLight got a boost in screen resolution up from 800 x 600 to the new "HD" standard of 1024 x 758. It also appears to have a much better frontlight that's more uniform and evenly lit than the original GlowLight Nook Touch. On the downside it doesn't use the new Carta screens from E Ink like the new Kindle Paperwhite; it uses Pearl.
B&N claims the new Nook is more durable and that the display can handle more abuse than before by using a new top layer material and lamination process. The device also has a silicone trim that is supposed to provide extra protection against falls.
Other positive improvements include an 18% decrease in weight from the previous Nook, and they increased internal storage space from 2GB to 4GB.
Now for the bad news. Unfortunately the folks in charge of making the Nook GlowLight have no clue what people want from an ebook reader. The very things that made the Nook Touch more desirable over the competition since launching 2 and a half years ago are now gone.
These are the main three things that are going to keep people from buying the new Nook GlowLight:
1. MicroSD card slot removed.
2. Page-turn buttons removed.
3. Only 500MB available for sideloaded non-B&N content.
As if those three things aren't bad enough, there's more. The new Nook is only available in white. Anyone who knows anything about E Ink can tell you that a dark border makes text appear darker. Even though it's nothing more than an optical illusion, white ereaders appear to have worse contrast. And the difference is a lot more noticeable than you would think. There's a reason everyone offers dark ereaders. White is an option sometimes but not the only option.
Another disappointment with the Nook GlowLight is the fact that it runs such an old version of Android, Android 2.1. That's the same as the original Nook Touch. Such an out-dated version of Android really closes the door on a lot of hacking, but since B&N removed the microSD card slot it doesn't matter much because no one is going to want to waste time hacking this thing now anyway.
One thing that continues to irk me about B&N's marketing tactics is they keep repeating that there are "No Annoying Ads"—a shot at Amazon's Kindles, which all have the option for displaying ads if you pay a lower price. But then B&N puts recommended reading titles on the homescreen that take up half the screen. How is that not an ad to sell more books? At least on the Kindles there's a setting to remove recommended titles from the homescreen. Not so on the Nook, at least not on the previous models.
I was hoping that Barnes and Noble would be able to redeem themselves with a new innovative Nook ereader, but instead of giving new customers a reason to buy it over something else, they've removed some of the best features and have decided to go backwards instead. I guess I shouldn't be surprised given the direction of the company in recent months. It's pretty clear the people in charge at B&N are totally clueless. As bad as it is it could be worse. At least B&N isn't giving up on ebook readers like Sony did.