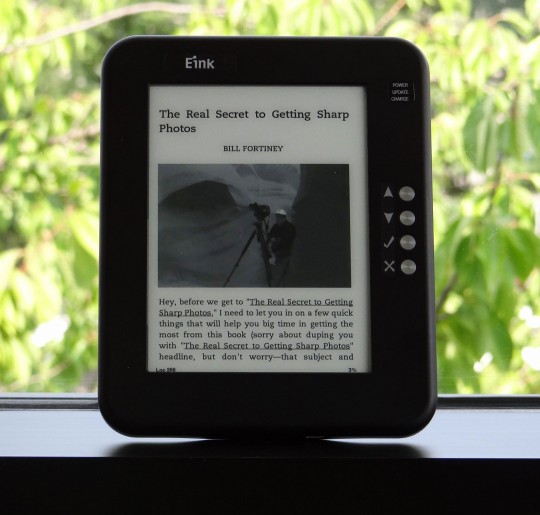 Today E Ink officially introduced their latest epaper display technology designed primarily for ebook readers. Carta is an upgrade from Pearl displays that come on most current E Ink ereaders.
According to E Ink, Carta brings a 50 percent improvement in contrast. The contrast ratio has been bumped from 10:1 up to 15:1. Reflectivity has also improved from 40.7% to 44%. Essentially what all that means is blacks are darker and the background color is whiter. Carta displays are using a new electronic ink formulation to achieve this.
In addition to better contrast, Carta displays are specifically tuned for reading applications supporting "E Ink Regal waveform technology", which is designed to dramatically reduce the need for full page refresh between page turns.
This is the first I've heard of Regal waveform technology. It sounds like it's also supported by Pearl displays because both Kobo and Sony mention significantly less page refreshes on their new models, the Sony PRS-T3 and Kobo Aura. But neither of those are using Carta screens.
The only ebook reader currently using the new Carta screens is the Kindle Paperwhite 2. Hopefully a new E Ink Nook gets in on the action too, but so far there's been no details or leaks about a new E Ink Nook.
One interesting detail I noticed about the new Kindle Paperwhite yesterday when the product page first went live before Amazon officially announced the device was the specs initially called the new screen "Opal technology". Shortly after the official announcement it got changed to "Carta e-paper technology".
I wonder if it was initially going to be called Opal instead of Carta. Pearl to Opal makes a little more sense than Pearl to Carta.
When E Ink went from Vizplex to Pearl a few years back, the main improvement was slightly better contrast, meaning the background color got lighter and the text got darker. It sounds like the move from Pearl to Carta is going to be about the same difference. There's isn't going to be a huge amount of improvement, but it should be noticeable with the two screen technologies side-by-side.
I look forward to doing some comparisons when the new Kindle Paperwhite arrives, except if it's like last year's model and there's no way to turn the light off completely it could make it harder to compare.