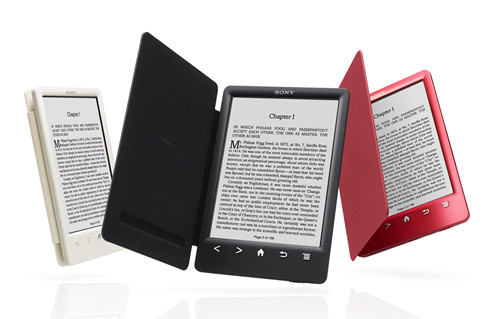 Thanks to various leaks, we knew it was going to happen. And we knew when it was going to happen. Then it happened: Sony officially announced the PRS-T3 ebook reader today.
But there's a bit of an unusual twist to the situation. So far, the US seems to be left out of the release. The press release is Europe-specific, and the new frontlight-lacking PRS-T3 is now listed on various European websites, including Sony UK and Sony France and Sony Spain, but it's no where to be found on the US website.
The Canadian Sony Store also shows the new PRS-T3, and it's ship date is just two days away. The price is $129 for the model with the regular integrated cover. The lighted cover is going to make your pocketbook grumble because it will set you back an extra $50.
We know the PRS-T3 is coming to the US because Sony sent it through the FCC, where the leaked documents initially came from. It's probably going to show up on Sony's website soon. I'm tired of waiting so let's just get started with the details.
Sony Reader PRS-T3 Specs
6-inch E Ink Pearl screen.
Clear IR Dual Touch Screen.
1024 x 758 pixel resolution, 16 levels of grayscale.
Wi-Fi (802.11 b/g/n).
2GB memory.
MicroSD card slot for cards up to 32GB.
Battery Life: up to 6-8 weeks reading 30 minutes per day.
Supported formats: Adobe DRM, EPUB, FB2, PDF, TXT, JPEG, PNG, GIF, and BMP.
Dimensions: 109 x 160 x 11.3 mm.
Weight: 200 grams including snap cover.
Colors: the usual Black, White, and Red.
Aside from lacking a frontlight, the PRS-T3 also lacks the new Carta screens from E Ink found on the new Kindle Paperwhite 2. The spec sheet specifically says Pearl screens.
I noticed that they added FB2 to the supported formats list, but it says "for Russia" in parentheses. Hopefully that isn't limited to the Russian version of the device only.
There are a couple of odd new features with the PRS-T3. Sony claims a quick charge of the battery for only 3 minutes gives enough power to read an entire 600 page novel. Not sure how often you need to only charge for 3 minutes, but I guess it's a feature worth talking about, right?
Not interesting enough? Well perhaps 4 hours of flicker-free page-turning will raise your brow. Sony says that's how long the new PRS-T3 can go without having to refresh the whole page with a black flash.
From a software standpoint, the PRS-T3 appears to be very similar to the PRS-T2 from last year. So that means you get the usual notes and highlights, multiple dictionaries and translation dictionaries, Evernote and Facebook integration, PDF reflow, multiple zooming options, etc. Until I'm able to get my hands on a PRS-T3 to review you might as well just check out my PRS-T2 review from last year to get an idea of most of the software features.
As far as pricing goes, it seems to vary by country. Some European Sony websites are selling it for 139 Euros and others for 149 Euros. That's with the regular non-lighted cover. The Canadian Sony Store has it for $129, which is likely pretty close to the price it will sell for once it becomes available in the US. So far I'm not seeing any option to buy the PRS-T3 with the lighted cover. Seems like a logical thing to do, so hopefully Sony starts selling them that way too because who wants to have to spend an extra $50 to buy a second cover just for a light.