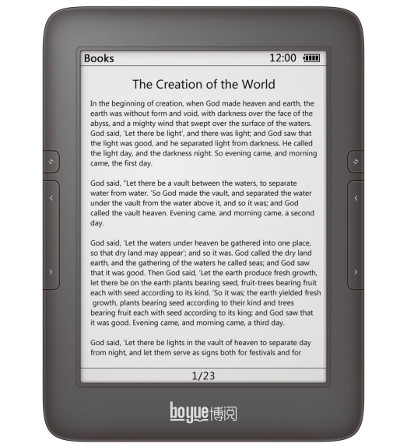 Earlier this month Charbax from ARMdevices.net posted one of his patented videos from the HKTDC Electronics Fair in Hong Kong showing an Android-powered E Ink ereader from a Shenzhen-based electronics company called Boeye.
The Boeye Android ereader is yet another device that will likely never be available in the United States (you can thank Amazon for that), but it's a good example of what ebook readers should be in this day and age.
From the video the device looks quite speedy and impressive. It has a touchscreen, frontlight, physical page buttons, memory card slot, folder navigation, HD E Ink screen, and most importantly the software is capable of utilizing numerous ereading apps just like a tablet because the ereader runs Android.
The device has a Rockchip RK2906 CPU and is running Android 2.3 Gingerbread, but the rep in the video says that they are working on an update to Android 4.1 that should be ready in a couple months. The device is expected to be ready by the end of this month.
There's a quick look a some of Boeye's other ereaders in the video as well, some of which run Linux instead of Android.
Boeye Android E Ink eReader, RK2906