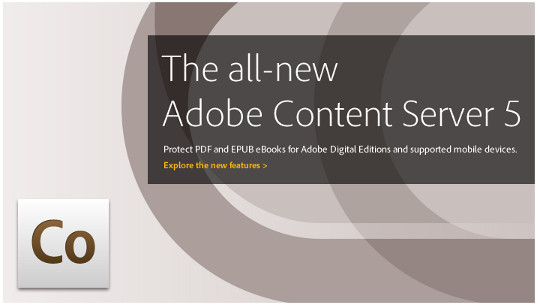 The world of ebooks is going to get a lot more complicated thanks to Adobe, a company that has nothing to do with the actual writing, making, or marketing of the ebooks you purchase, but that doesn't stop them from wanting to cash in on them as much as possible nonetheless. The way they've found to pull that off is to capitalize on scared publishers that think Adobe DRM is the only way to protect ebooks, while taking advantage of the whole "Amazon is evil" idea, and baiting consumers into the false idea that the ePub format is somehow more "open" than other formats.
Adobe has released an update to their ebook software, Adobe Digital Editions 3.0, and with it version 5 of the Adobe Content Server, which Adobe claims will make their DRM scheme (with special emphasis on scheme) more secure and a lot harder to crack because they can change the encryption dynamically on the fly.
This is how Adobe puts it: "The new hardened DRM solution uses multiple encryption layers with Adobe Licensing server having the control to change the mechanism of encrypted resource key generation."
What's going to make this even worse is the fact that it changes the so-called industry standard ePub format even further. Now there's going to be two versions of Adobe DRM ebooks floating around out there, and the newer version isn't going to be compatible with older ADE-supporting devices. The same goes for ADE-supporting software and apps.
It's going to be up to the individual publishers and retailers to decide if they want to use the new content server 5. That's just going segregate ePub ebooks even further.
And once people find out they can no longer remove the DRM from ebooks like they could before with this super easy DRM-removal tool, then they are just going to go to Amazon and buy ebooks instead where they can easily remove the Kindle DRM and choose to read the book they purchased with their own hard-earned money however they want.
Scared publishers and authors will likely praise the new "unbreakable" Adobe DRM scheme, but it's going to do more harm than good. I know I'll never buy an ePub with Adobe's new DRM, just like I'll never buy an ebook from iBooks for the same reason. Lots of people will do the same. All this is going to do is make Amazon even stronger. They don't have to do anything and they win. And people wonder why they are so successful.
via: lesen.net