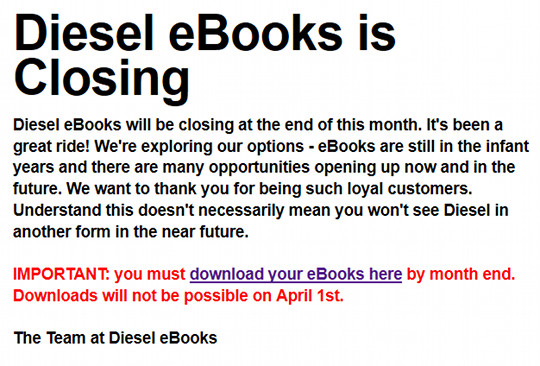 The Sony Reader Store isn't the only ebook vendor shutting down business this month.
Diesel eBooks has also announced that they will cease operations at the end of March. In fact they've already stopped selling ebooks and have placed a notice on their homepage telling customers that they have until the end of the month to download past purchases.
The notice also mentions that Diesel could be back in the near future in another form:
Diesel eBooks will be closing at the end of this month. It's been a great ride! We're exploring our options – eBooks are still in the infant years and there are many opportunities opening up now and in the future. We want to thank you for being such loyal customers. Understand this doesn't necessarily mean you won't see Diesel in another form in the near future.
This is somewhat reminiscent of BooksonBoard closing last year about this time. They too were optimistic about restructuring the company and coming back, but so far that hasn't come through.
Oddly enough Diesel's other erotica ebook store, eBook-eros.com, still appears to be up and running. Even at the bottom of the page it says "A Diesel eBooks Company". I wonder what's going to happen with them.
The number of independent ebook stores is shrinking rapidly. I just updated the list of ebook stores page and had to remove several. The ones that haven't closed entirely, like Powell's Books and WHSmith, are now sending people to Kobo.