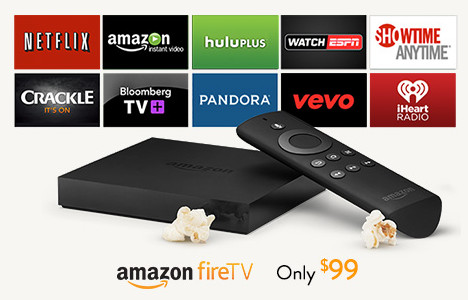 The big news story today is the new video streaming and gaming device called Fire TV that Amazon has just released for $99. It's basically Amazon's answer to Apple TV, Chromecast, and Roku devices.
Amazon Fire TV is a small box that you plug into your TV to watch Prime Instant Videos, Netflix, Hulu Plus, and other streaming services, including music from Pandora and iHeart Radio.
They also included video games and an optional video game controller, which costs and extra $40. Amazon is aiming for more of the low-end gaming market; the device certainly isn't meant to compete with consoles like the Xbox and PlayStation. The games are Android games, so they aren't nearly as deep or detailed as today's console games. But they are cheap. Amazon notes an average price of $1.85 per game.
Whether or not you think that Fire TV is a good deal or not (I tend to think Amazon overpriced it; I might have gotten one if it were under $70, but then I realized I already have basically the same thing—an Android tablet or laptop with an HDMI cable plugged into my TV), it gives Amazon another way into customer's houses and pocketbooks. That's why I find it puzzling that reading was in no way incorporated into this new device, especially given Amazon's current stranglehold of the ebook market.
I know what you are thinking. Who wants to read ebooks on a TV? Well, I think there are some people that would. For one, Amazon has notoriously made their Kindle devices inaccessible to people with disabilities, and I think they really missed out on an opportunity here. Sure, most people aren't going to read Kindle ebooks on a TV, but for people with vision problems or other disabilities it could be a huge help.
And ebooks aren't the only way to consume books. What about audiobooks? Amazon has a feature for music with Kindle Fire tablets called X-Ray for music, which they are including with Fire TV, where it highlights the lyrics of the song on-screen as it plays. The exact same thing could be applied to audiobooks; that's how it works on the Kindle Fire tablets if you have the ebook and audiobook—it highlights the words and turns pages automatically as it reads aloud.
Amazon could still add these kind of features for Kindle ebooks and audiobooks in the future, but so far they've given no indication that they plan to do anything like that.