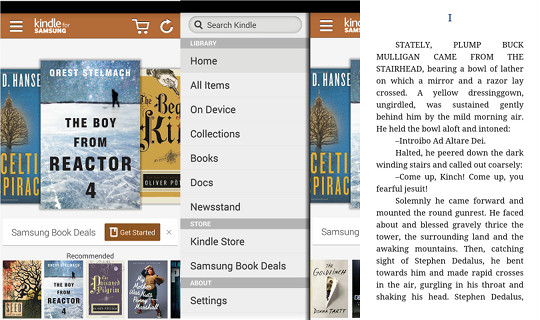 Amazon and Samsung have announced an interesting new partnership that has resulted in a co-branded Kindle reading app called Kindle for Samsung. The new app includes some exclusive features, notably access to Samsung Book Deals, a service just launched that provides access to 12 free ebooks a year to all Kindle for Samsung users.
The app is only available for Samsung tablets and phones running Android 4.0 and up, and is offered to customers in 90 countries. The app is available exclusively from the Samsung Apps Store.
It isn't unusual for Amazon to partner with a hardware manufacturer to get their regular Kindle for Android reading app pre-loaded onto a device, but what Amazon is doing with Samsung is quite different. In fact this is the first time that Amazon has done something like this.
They are just basically tweaking the regular Kindle for Android app slightly and are calling it Kindle for Samsung. The app has access to the Kindle store for ebooks, newspapers and magazines, and it has the usual Kindle features like Whispersync for syncing last page read, bookmarks, and notes across multiple devices.
They had to come up with a reason for people to choose it over the regular Android Kindle app, so that's where the Samsung Book Deals come in. Each month customers get to choose one free ebook from a preselected list of four. All that is required is a Samsung account, and of course the Kindle for Samsung app installed on a Samsung device with Android 4.0 or newer.