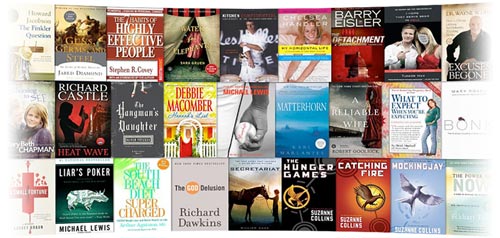 Below is a list of ebook subscription services. Instead of buying ebooks at list price, these companies give customers the option to pay a monthly fee, usually in the $5-$10 range, to get access to as many ebooks as they want to read, depending on the individual service (some allow limited ebooks per month).
Kindle Unlimited – Amazon offers access to over 600,000 ebooks with their monthly subscription service called Kindle Unlimited, which costs $9.99 per month. The service also includes access to several thousand audiobooks offered through Amazon's Whispersync for Voice feature. Works will all Kindle devices, Kindle apps, and the Kindle Cloud Reader.
Scribd – Offers a catalog of over 400,000 ebooks and 30,000 audiobooks. Unlimited access costs $8.99 per month. Scribd has apps for the iPad and iPhone, Android, Windows, and Kindle Fire. Books can be read using a web browser on computers, phones, and tablets as well. Available in over 100 countries and 80 languages.
Oyster (No longer in business) – Offers unlimited access to over 500,000 ebooks for $9.95 a month, with new titles added frequently. Oyster's ebooks are currently available on apps for iPad and iPhone, as well Android, including the Kindle Fire and Nook tablets. They also offer a Web Reader to read ebooks using a web browser on a computer or mobile device.
Entitle (No longer in business) – Offers access to a selection of 125,000 titles. Plans start at $9.99 per month and go up from there. Entitle boasts more new releases and best sellers than any other subscription service. Entitle has apps for the iPad, iPhone, Android, Nook tablets, Kobo tablets, and the Kindle Fire, and they are the only service to currently offer support for E Ink ebook readers (brands that support Adobe DRM). Also works with ADE for reading on computers.
24symbols – Offers a catalog of over 15,000 novels, poetry and business books. Cloud-based service works with web browsers, and they have apps for iPad, iPhone, Android, Blackberry, Kindle Fire, and HTML5. Free service requires online reading, and has limited access to some ebooks. Premium service grants unlimited access to the full catalog, as well as offline reading, and costs 5-9 euros per month, depending on payment frequency.
Kindle Owners' Lending Library – This is different from Kindle Unlimited (listed above). Amazon offers a selection of over 565,000 titles (here's the hard-to-find list) to Kindle owners that subscribe to Amazon Prime, which costs $99 per year. However, users are limited to borrowing only one ebook per calendar month.
Epic – Offers unlimited access to thousands of kids books for $9.99 per month. The service is meant for kids 12 and under. Epic is only available on the iPad 2 and newer.
Kindle FreeTime Unlimited – Amazon's curated kid-oriented subscription plans cost $2.99-$9.99 per month and grant access to apps and videos in addition to books. Includes unlimited access to thousands of hand-picked titles for kids ages 3-8. Available on Kindle Fire Tablets only.
Reading Rainbow – Another option for kids books, Reading Rainbow has apps for iPad and Kindle Fire tablets. A subscription grants unlimited access to hundreds of fiction and non-fiction books for children ages 3-9. Also includes educational video field trips hosted by LeVar Burton. Costs $9.99 per month or you can pay for six months at $4.99 per month.