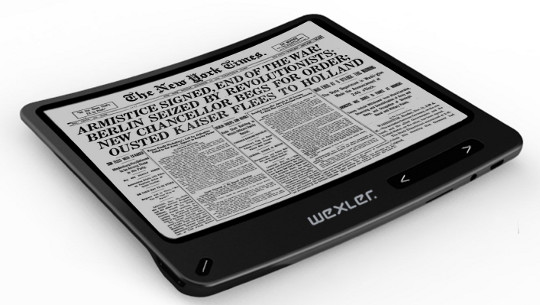 The Wexler Flex One ebook reader was the first device to use LG's flexible epaper screen. It is made entirely of plastic, and has a slight contour to the shape. The device has give and can even be bent slightly. It is meant to be very durable, and Wexler claims that it is in fact shatterproof.
The Wexler Flex One was available in Russia in 2012, and had a short-lived existence before being discontinued over a year ago.
It's somewhat surprising to see the Flex One for sale on Amazon.com. The device is only $49.99 plus $5.99 for shipping. It is being sold by a 3rd party merchant going by the name Wexler. But it's not being shipped from overseas; it's being shipped from Illinois.
Here's the list of specs for the Wexler Flex One:
6 inch Polymer E-ink (EPD – Electronic Paper Display)
1024×768, 16-level grayscale
Storage 8GB
Text support EPUB, PDF, FB2, TXT, DOC
Battery Up to 2 weeks
Last I heard, there was a high rate of failure with LG's plastic screens. There's hasn't been any news about them for a long time, and no other device makers appear to be using them anymore. According to early reports, the resolution and speed of LG's plastic E Ink display isn't quite as good as comparable glass-based E Ink screens.
Wexler Flexible E Ink Reader
via: E-Ink-Info