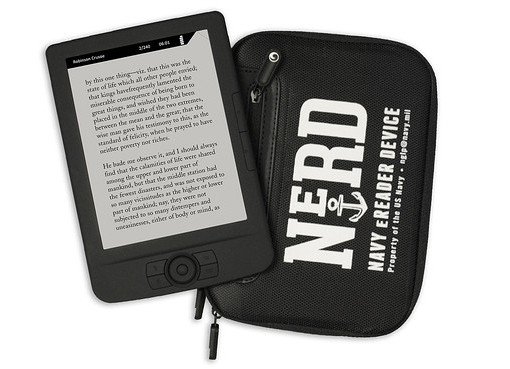 It looks like the U.S. Navy is going to be getting some new NeRDs onboard ships. The Navy's General Library Program has announced the NeRD, short for Navy eReader Device.
Because of security risks associated with tablets and ebook readers like the iPad and Kindle, the Navy's General Library Program partnered with Findaway World to developed a custom ebook reader made specially for Naval ships, one that can't be hacked or infected with malicious software.
The NeRD is truly the most locked-down ereader you'll ever find. It doesn't have Wi-Fi, a memory card slot, or any way to add or remove content—only the Navy can do that.
The NeRD comes pre-loaded with 300 ebooks, and includes an eclectic selection of newer bestsellers, public-domain classics, and titles from the Navy's own reading list, among other topics. Publishing partners include Simon & Schuster, HarperCollins, Hachette and Random House. Some popular fiction titles include A Game of Thrones, The Lord of the Rings, and The Stand.
The Navy's library is well-stocked with ebooks and audiobooks for service members and their families, but there's no access to these on ships. That's where the NeRD comes in.
The Navy is reportedly making 365 NeRDs to start with, and each U.S. submarine will be getting a few devices for crew members to share.