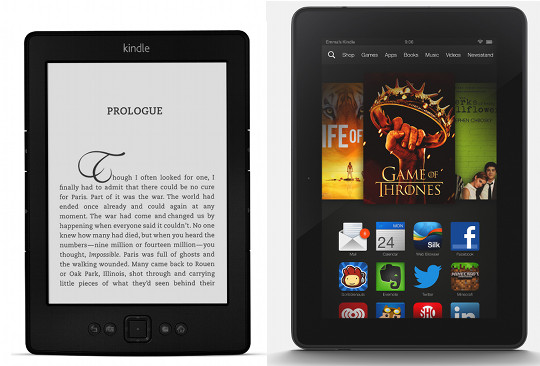 Occasionally I get asked what is the difference between tablets and ebook readers. That's a pretty easy question to answer, so here it goes…
Generally speaking, the main difference between an ebook reader and a tablet is the screen. Tablets use backlit LCD screens, whereas ebook readers have E Ink screens.
E Ink screens are more paper-like. They are designed to mimic the look of ink on paper. They aren't backlit and don't emit light like LCD screens. Because of that, they provide a more eye-friendly reading experience and tend cause less strain for some people. Another benefit with E Ink is that it is easily readable in direct sunlight and under bright light; the screen doesn't turn into a mirror like LCD.
Since E Ink screens don't emit light, battery life is much better than tablets as well. Some E Ink screens have frontlights built-in. The light is directed at the screen instead of being emitted outward, so it's different than a backlit LCD screen. Plus the LED lights used for frontlights are very energy efficient and require little power.
An ebook reader with a frontlight can last several weeks on a single charge when reading everyday, whereas most tablets top out at about 10 hours of total use.
Aside from the screen, the main difference between tablets and ebook readers is the overall functionality. Ebook readers are designed specifically for reading ebooks. They are often capable of other tasks, such as web browsing, note taking, and playing music and some games, but the primary function is reading.
Tablets can be used as ebook readers, but they also have all the other features of playing videos, surfing the web, sending email, taking photos, etc.
One of the main benefits of using a tablet as an ebook reader is being able to use different reading apps. You can install apps from all the different stores and read everything on the same device. Plus tablets are often better suited for larger-form content like magazines, newspapers, and comics.
Dedicated ebook readers like the Kindle and Nook are generally more locked into the store they came from for buying content. Other content can usually be added, but it's not as simple as with a tablet.
So at the end of the day tablets can make for really good ebook readers, especially for a wider range of content. But if you want better battery life, a screen with the characteristics of paper, and a minimum of distractions an E Ink ebook reader is the way to go. E Ink ereaders are great for heavy readers; tablets are often the better choice for light readers.