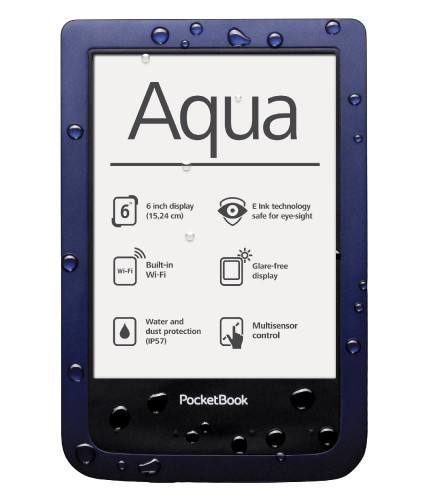 Earlier this year PocketBook announced that they would be releasing a waterproof and dustproof ebook reader called the PocketBook Aqua.
PocketBook plans to release their new water-resistant ebook reader in Russia a few weeks from now in June 2014. It will cost 6990 rubles—that's equivalent to just over $200 US dollars.
The PocketBook Aqua is the first so-called "waterproof" and "dustproof" dedicated ebook reader. At least it's the first to ship that way from the factory.
Last year I reviewed a waterproof Kindle Paperwhite from Waterfi—they take devices apart aftermarket to make the waterproofing modifications. I indeed found the device to be quite waterproof, even sticking it in a fish tank, but then I took the testing to the extreme and the frontlight eventually stopped working after the device was submerged for several hours under water. That's not something PocketBook has to worry about because the Aqua doesn't have a frontlight.
PocketBook claims their Aqua ebook reader can be immersed in water up to one meter deep. And that it can be used in any weather conditions and is suitable for extreme environments, even those with sand and dirt (like a beach), because of it's dust-proof properties.
The PocketBook Aqua is equipped with a 6-inch E Ink Pearl display. It uses the older 800 x 600 resolution screen instead of the newer higher resolution screens. It has a capacitive touchscreen, Wi-Fi, a micro USB port, a 1 GHz processor, 256 MB of RAM, and 4GB of internal storage space.
The PocketBook Aqua weighs in a 170 grams and measures 114.6 x 174.4 x 9mm. It has a 1300mAh lithium ion battery.
Like all of PocketBook's ebook readers, Adobe DRM is supported for ePub and PDF ebooks. The following additional DRM-free formats are also supported: EPUB, PDF, FB2, FB2.ZIP, TXT, DJVU, HTML, DOC, DOCX, RTF, CHM, TCR, PRC (MOBI). The device also works with Dropbox for transferring content.
PocketBook Aqua Immersed in Water